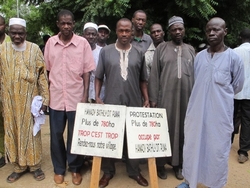 Photo: RFI/David Baché
Xinhua | 22 May 2015
Mali government promises to tackle land grabbing
Mali's Minister of State Domains and Land Affairs Me Mohamed Ali Bathily has said his ministry will launch a merciless war against land grabbers and those who engage in land speculation.
After a recent cancellation of fifty title deeds, the minister has now redirected his focus to communes in Bamako and Kati (15 km from the capital) where public land has been grabbed by developers who have set up residential and commercial buildings.
"We shall drive them off those pieces of land in accordance with the law," Me Bathily said when he was responding to a question regarding some of the developers considered to be "untouchable."
The minister's announcement has been welcomed in Mali where land speculation is now considered as a ticking time bomb.
Out of the 347 cases handled by the Ombudsman between 2012 and 2013, majority of them were land related.
"Land related cases have continued to increase, creating a potentially dangerous situation for social peace," the Ombudsman Baba Akhib Haidara said while handing over his department's 2014 report to Mali President Ibrahim Boubacar Keita.
The government has always been accused by the opposition and civil society groups of "selling off thousands of hectares of land to multinational companies at a throw-away price to the detriment of the local population."
In a memorandum, the Party for National Renewal (opposition) affirmed that 472,000 hectares had been given to foreigners and over 233,000 hectares to some private Malian individuals, to "the detriment of local populations who risk being chased away from the land they have used for generations."
Land grabbing of agricultural land has particularly become an issue of major concern across the Malian national territory.
"Today, all the arable land in the country is targeted," said Massa Kone, the secretary general of the Associations for the Coordination and Defense of Rights of the Vulnerable.
"I do not know, in 10 to 20 years, how people will live in our villages because there will be no land to till whereas the population continues to grow. Everything has been sold to rich people in very opaque conditions," said Siaka Samake, a resident of Dialakoroba, some 50 km from Bamako.
"Some farmers have been cheated into selling their farm lands at a very low price," added Broulaye Doumbia, another local of the area.
At this rate, most future generations will be condemned to either seeking residency in the towns, or migrating to Europe or elsewhere. Those brave enough to remain will have to work in major plantations which were sold off by their parents, a civil society source regretted.
In most of the conflictual situations that have been cited, private firms are always the source of the phenomenon, but with "government complicity."
According to most observers, it's the state that initiated the system of renewing long leases. Therefore it is the national authorities that first grab the land under the pretext that the land belongs to the state. It is this system that Bathily is fighting against.
"According to customs, these lands are to be used by the local people to earn their living. Customary law exists in Mali but it is never respected because a poor farmer cannot fight against a huge housing corporation or a wealthy man," Massa Kone lamented.
"By taking away the land of the rural people, we are denying them their future. This depossession could result into violence," warned Madou Sidibe a Malian sociologist.
On his part, the Ombudsman has recommended the setting up of a land tribunal to handle land related cases across the entire national territory.
Besides cancelling controversial or fraudulent title deeds, the government plans to digitize land registration system which, it hopes, will curb corruption and land speculation.