Press release
22 May 2015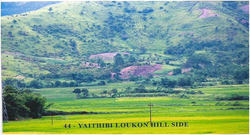 PENANG, Malaysia – Regional advocacy group PAN Asia Pacific (PANAP) urged the Indian and Manipur governments to respect the human rights of small farmers and indigenous peoples in five local villages that will be affected by the planned construction of a national sports university and the so-called Asian Highway 1 (AH1) in
"The survival and welfare of farmers and indigenous peoples are at great risk if the infrastructure projects, which the local communities have been vehemently opposing, push through," PANAP Executive Director Sarojeni Rengam said. "We appeal to the Indian authorities to listen to the people and give due respect to their rights and aspirations as a community," added Rengam.
The sports university will cover a total of 642 acres of land, comprised of 380 acres of agricultural land, 100 acres of habitat areas and 162 acres of hill and forest areas. It will displace about 3,000 people in five villages. The forced acquisition plan will also gravely affect religious and cultural tradition in the area. Last year, India's Prime Minister Narendra Modi announced the construction of a sports university to promote sports while supposedly creating employment opportunities for Manipur's youth.
Meanwhile, the construction of a portion of the AH1 or the Trans Asian Highway in Manipur will affect more than 100 acres (40 hectares) of agriculture land in and around Yaithibi Loukon. There have been no social, environmental, economic, and cultural impact assessments. The Asian Development Bank (ADB) is funding the 110-kilometer Imphal-Moreh road in Manipur, which is a section of AH1, among other road projects in the Indian state.
Rengam also expressed grave concern over the reportedly worsening human rights situation in the affected areas including the illegal arrest and detention and harassment of community leaders opposing the project as well as militarization. "We hope that these alleged incidents of atrocities against the communities will immediately stop, and the perpetrators promptly investigated and made accountable," Rengam said.
In one incident, the police allegedly used force against a peaceful rally last November 2014 to sow fear among the people. State security forces have been deployed in the local communities while at least one opposition leader has already been arbitrarily arrested and detained by the police.
"We support the struggle of the people of Manipur to defend their human rights, their land and their life," said Rengam.
PANAP is supporting the urgent appeal of the affected local communities in Manipur to convince India's leaders to reconsider and stop the construction of the sports university and the AH1 section in Yaithibi Loukon, Thoubal District.
Hillside of Yaithibi Loukon, Thoubal District, Manipur, North East of India.
###
For additional information and how to support the campaign, please click here