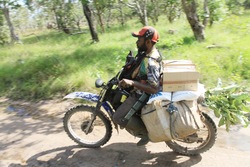 A motorcycle taxi driver from Merauke takes goods over the border to Papua New Guinea. (Antara Photo/Akbar Nugroho Gumay)
Jakarta Post | 18 May 2015
Pupuk Indonesia needs $534m for Merauke Food Estate
By Damiana Simanjuntak
Jakarta. The government has tasked state-owned fertilizer maker Pupuk Indonesia to raise Rp 7 trillion ($534 million) to clear and develop 750,000 hectares of rice fields in Papua, a senior official said over the weekend.
The plan is part of President Joko Widodo's program to establish a million hectares of rice, sugar cane, soybean, corn, and oil palm-growing area – dubbed the Merauke Integrated Food and Energy Estate – in Papua by 2017.
"It's likely that Pupuk Indonesia will establish a new subsidiary called PT Pangan to handle the project. They are still discussing how to fund the investment," said Haryono, the head of research and development at the Agriculture Ministry.
Private companies will be responsible for developing the remaining 250,000 hectares. Wilmar International, Medco and Sinar Mas are among the conglomerates that have expressed an interest in investing in the project.
Haryono said the project still had to resolve land acquisition issues, with the majority of the land being communally owned. "On the plus side, Merauke's land is flat and has irrigation systems left by the Dutch, so it only needs few repairs," he said.
The government targets to clear 250,000 hectares of land by the end of this year.