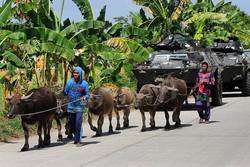 Residents walk their water buffaloes past military armored personnel carriers as they evacuate in Mamasapano town in southern Mindanao on Feb. 28, 2015. (Photo: Agence France-Presse/Getty Images)
Wall Street Journal | 18 May 2015
World Bank, Japan agency offer farm loan for Philippines
By Cris Larano
MANILA—The World Bank and the Japan International Cooperation Agency are preparing a $250 million loan package to support foreign investment in agriculture in Mindanao, the conflict-plagued southern region of the Philippines.
The loan package will be extended to the Philippine government, which will then provide 20-to-25-year, low-interest loans to foreign companies with plans to invest in banana, coffee, cacao and pineapple plantations, officials said.
Motoo Konishi, Philippines country director for the World Bank, told reporters on Monday that investors in contract farming will also qualify for the loans, in which companies buy products from farmers at pre-agreed prices.
John Perrine, chairman of banana exporter Unifrutti Group, said foreign companies waiting for the loan package have made commitments to invest a total of $366 million in about 18,700 hectares of land.
Mr. Perrine said the investments will generate more than 22,000 direct jobs in some of the poorest provinces in the country.
The announcement came amid debate in the Philippine Congress over whether to pass a law that advocates hope will forge lasting peace in Mindanao by giving a large amount of political autonomy to Muslim rebels in return for their putting down their weapons.
More than 100,000 people have died in the last four decades because of the push by Muslim rebels to break way from the Philippines, and the resulting turmoil has discouraged foreign investment. Unifrutti Group has had operations in the area since 1992, making it one of the few foreign investors to do so.
Mr. Perrine said corporations planning to invest in Mindanao include South Korea's Jinwon and Chalmers, which plans a $61 million, 2,000-hectare banana plantation; U.S.-based Volcafe, a subsidiary of ED&F Man, which proposes to build a $52 million, 4,000-hectare coffee plantation, and Kennemer Foods Int., a U.S.-based supplier to chocolate-maker Mars, which is looking at a cocoa project.
"These projects are a go right now with or without the BBL," said Mr. Perrine, referring to the proposed peace pact, the Bangsamoro Basic Law.
The Japanese International Cooperation Agency is an independent government agency that coordinates official development assistance of the Japanese government.
Mr. Perrine said two Japanese companies, which didn't want to be immediately identified, plan to develop 4,000 hectares of bananas and 2,700 hectares of pineapples.
Meantime, the Asian Development Bank said Monday it is preparing a loan that will help fund the construction of some 500 kilometers of roads in western Mindanao.
ADB country director Richard Bolt said the loan should be ready by next year.
Write to Cris Larano at
[email protected]