RFA| 28 April 2015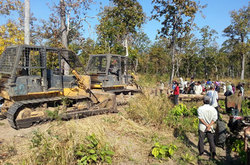 Villagers in Preah Vihear, Cambodia stop bulldozers from a Chinese company Lan Feng, Dec 30, 2014. (Photo: RFA)
Cambodian villagers march to ask for foreign intervention in land dispute
Residents of a Cambodian village involved in a decade-old land dispute with the wife of a powerful government minister marched on Tuesday in the capital Phnom Penh to request foreign support for their case, sources said.
Around 50 villagers representing 90 families from Lor Peang village in Kampong Chhnang province presented petitions to the U.S. and European Union embassies among others, accusing KDC International—a company run by Chea Keng, wife of Cambodia's Minister of Mines and Energy Suy Sem—of encroaching on their land.
Village representative Oum Sophy said the protesters had especially targeted the embassy of Vietnam, which refused to accept the petition, with a request to stop Vietnamese companies from investing on the contested land.
"I hope that the embassy will prevent its citizens from investing with KDC," Oum Sophy told RFA's Khmer Service on April 28. "This company has stolen our land, and we have already been suffering for 10 years."
Lor Peang villagers accuse KDC of having illegally confiscated 184 hectares (455 acres) of land from more than 100 area families in 2002, and say the company has attempted to pressure villagers into taking compensation packages they say are too low to allow them to move off the land.
Tensions over Lor Peang village, erupted in June 2014 into bloody clashes, leaving about a dozen injured, when residents stopped about 100 KDC workers from fencing off the disputed land.
The Kampong Chhnang provincial court has failed to rule on the dispute for years.
NGO role 'misunderstood'
In a separate case, a court in Cambodia's Preah Vihear province this week summoned a staff member of the nongovernmental organization Ponlok Khmer to answer charges of having "illegally detained" a work crew attempting to clear village land in December 2014.
Speaking to RFA, rights worker Bek Sophean said he had not committed any crime, but had simply "monitored" villagers as they blocked workers from a Chinese land-concession company, Lan Feng, as they tried to bulldoze village land.
The accusations made against him show that authorities misunderstand the role of NGOs in defending people's rights, he said.
"It is a serious mistake for the court to accuse an NGO in this way," he said.
Preah Vihear's deputy prosecutor meanwhile issued seven additional warrants calling on protesters to appear before the court on April 29 on charges of having committed criminal offenses, sources said.
One villager who was charged called it unjust that villagers and rights workers should be hauled into court while Chinese companies are allowed to "encroach" on their land.
"I have lost my farm and my forest. Where can I go to live now?" Pou Phen asked.
Lor Chan, coordinator for the Cambodian rights group Adhoc, called the court warrants "a threat" to villagers and NGOs and urged the provincial deputy prosecutor and Cambodia's Ministry of Justice to reconsider the case.
Land disputes are a bitter problem for Cambodia, where rural villagers and urban dwellers alike have been mired in conflicts that the U.N.'s special rapporteur for human rights in Cambodia has warned could threaten the country's stability.
The country's land issues date from the 1975-79 Khmer Rouge regime, which forced large-scale evacuations and relocations, followed by a period of mass confusion over land rights and the formation of squatter communities when the refugees returned in the 1990s after a decade of civil war.
Reported by RFA's Khmer Service. Translated by Samean Yun. Written in English by Richard Finney.