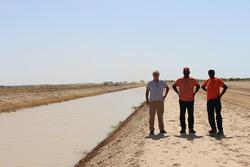 Dean Jobling (left), CEO of Sunu Agro, standing beside an irrigation canal, constructed through a porject financed by the MIllennium Challenge Corporation of the US, which will provide water to Sunu Agro's farm in Senegal.
Property Frontiers | 11 October 2013
A..Maizing! Meet the expert team behind our new Senegal investment
(Note: On February 13, 2015, Sunu Agro anounced on twitter that it had acquired a land lease for 1982 ha)
In this exclusive video interview, Property Frontiers Sales Manager David Ball speaks with Dean Jobling, CEO and Founder of
Sunu Agro
, our Partners in Senegal, looking at the appeal of alternative investments as an asset class, the imbalance in supply and demand of food stuffs in the local Senegalese market and how our new structured investment is offering a real solution to this pressing challenge as well as delivering investors expected returns of 239% over 5 years.