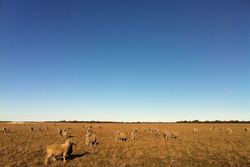 FIN Alternatives | 27 April 2015
New Australian agribusiness fund targets U.S. investment
Alternative investment management firm Blue Sky is targeting North American institutional investors with a new strategy that will invest in Australian agriculture and related industries.
Michael Blakeney, Blue Sky Real Assets investment director, is set to unveil the fund this week at the Global AgInvesting conference in New York.
"Australian agriculture is highly efficient and sustainable and our country is perfectly positioned to continue to grow as the supplier of choice for quality and safe food to Asia," Blakeney said. "The recent free trade agreements signed with China, Japan and Korea will support and build Australia's leading position. With the deployment of new capital, Australia has an opportunity to capture over an additional US$1 trillion in agricultural exports between now and 2050."
Blue Sky plans to invest in a diversified portfolio of strategic Australian real assets via three distinct and complementary investment strategies--Australian perpetual water rights, agricultural infrastructure and agribusiness expansion capital--to generate competitive risk-adjusted returns uncorrelated with global equity markets.
Australian agricultural land and perpetual water rights values have appreciated by five to 12% per annum over the last 20 years, thanks to their quality, scarcity and competitive advantage in supplying Asia's growing demand for food and fiber production.
Blue Sky's low volatility strategy will target a competitive mix of yield and growth.
The strategy is managed by Blue Sky Water Partners, a division of Blue Sky Real Assets, which has achieved returns of 13% per annum (net of fees) since inception in 2012.
The team is backed by the asset management platform of Blue Sky Alternative Investments, which has more than US$760K in assets under management. Blue Sky has offices in New York, Sydney, Melbourne, Brisbane and Adelaide, a team of more than 70 and a broad investor base including institutional, wholesale and retail clients.