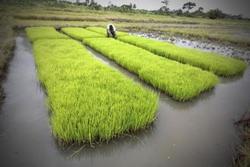 A man works in a rice field in Nanan, Yamoussoukro, September 27, 2014. (Photo: REUTERS/Thierry Gouegnon)
Reuters | 16 April 2015
Ivory Coast seeks to woo agricultural investors with reform, tax breaks
By Ange Aboa
ABIDJAN (Reuters) - Ivory Coast is hoping to attract billions of dollars of investment and become self-sufficient in food by offering more tax breaks for agricultural firms and stepping up land reform and infrastructure projects, its agriculture minister said.
The West African country is already the world's largest producer of cocoa and has drawn up a plan to diversify its output by pulling in about 2 trillion CFA francs ($3.25 billion) in investment from donors and investors up to 2016.
President Alassane Ouattara's government hopes the National Plan for Agricultural Investment (PNIA) will reduce poverty and lead to the local processing of half of Ivory Coast's agricultural output.
"We want to attract foreign investors and to do that we need to undertake reforms," Agriculture Minister Sangafowa Coulibaly told Reuters in a telephone interview late on Wednesday. "In terms of tax, that will be examined case by case, depending on the size of the investment.
"If it is important financially and it favors employment, it is normal that the state should provide tax incentives."
Agriculture makes up around a quarter of Ivory Coast's roughly $35 billion economy and employees two-thirds of the workforce, but rural infrastructure requires large scale investment after a decade of political turmoil that ended in a brief 2011 civil war.
Coulibaly said the government had provided land and financial support to Ivorian animal feed producer SIPRA for a maize plantation in the north.
About 1.072 trillion CFA has already been committed under the PNIA from 2012-2016, with roughly two-third coming from foreign donors such as the World Bank, the U.N. Food and Agriculture Organisation (FAO) and the European Union.
The remaining funds are expected to come from the private sector, the minister said.
"The state is going to build roads and electrify farming regions so that producers can quickly and easily export their production. That will avoid losses and improve productivity," Coulibaly told Reuters.
He said the government would make it easier to get land and speed up the process for investors wanting to get involved in arable farming.