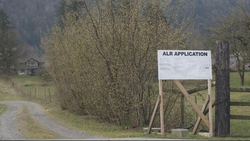 British Columbia`s Agricultural Land Reserve is intended to protect the province`s most productive farmland, but its implementation has been rocky. (Photo: Rick Collins/The Globe and Mail)
The Globe and Mail | 13 April 2015
Foreign firms grabbing prime B.C. farmland for carbon credits
by MARK HUME
Doug Hatfield has big plans for growing hay in British Columbia, but he says his dream hit a setback recently when a foreign corporation that was looking for carbon credits outbid him for land.
"I want to see this stopped as quick as possible," Mr. Hatfield said on Monday of a trend toward converting provincial farmland to forest to sequester carbon for the purpose of offsetting greenhouse gas emissions. The practice is raising concerns because it reduces B.C.'s agricultural land reserve (ALR).
Provincial farmland in the ALR is protected from development, but trees are considered a crop, and the Agricultural Land Commission has no rules against planting them on cleared agricultural land. The practice of replanting forests on such land is known as afforestation, and while the government estimates that only about 1,500 hectares have been used that way, some farmers say they fear much more could be lost if a British-based company goes ahead with its plans.
Mr. Hatfield, who is developing a $10-million agricultural project to provide hay for export, said he found an ideal piece of rich cropland near Quesnel last fall, but was stunned when a numbered company with a plan to plant trees outbid him for the 545-hectare parcel.
Mr. Hatfield is trying to assemble about 8,000 hectares to grow hay, but he says it is tough because some of the best land is going to foreign companies such as Reckitt Benckiser Inc. (RB), a multinational that produces health-care and home-cleaning products, and bought the land he wanted.
A company spokesman could not be reached for comment, but RB states on its website that its Trees for Change program is planting 10 million trees on marginal land in Canada.
Mr. Hatfield said that many trees could use up 16,000 hectares of farmland.
"They say they are getting only marginal land that nobody else wants and that's been on the market for a long time. That is total crap. This is prime land," he said. "Of course I'm frustrated. There's [more than] 1,000 acres gone. It won't make or break my company, but it makes it more awkward. And it does not make sense to have an English company buy this land and plant trees on it so they can pollute over there."
B.C. Agriculture Minister Norm Letnick said he is always concerned when he hears of farmland being used for purposes other than farming, but he does not think a great deal of land has been afforested.
He said he asked staff to look into the issue and was told only 1,500 hectares of 4.7 million hectares in the ALR have been used that way. Given farmers' concerns, he is asking for another review.
Mr. Letnick said that to qualify for carbon credits, a land owner needs a covenant that restricts logging for 100 years. Such a covenant would have to go before the Agricultural Land Commission, which would determine if the land was appropriate for such use, he said.
"That is up to the commission to make that determination," Mr. Letnick said.
Martin Rossman, a hay and alfalfa farmer who owns about 250 hectares just south of Quesnel, said several of his neighbours have sold land to foreign companies.
"I'm getting concerned about the amount of farmland being bought up by non-residents of Canada. We are the only province in Western Canada that doesn't have limitations on the amount of land that can be owned by non-residents," Mr. Rossman said. "I don't like it at all."
Kevin Boon, general manager of the BC Cattlemen's Association, said there is a tight supply of hay in the province, and he's worried the further loss of croplands could limit beef production.
Lana Popham, agriculture critic for the NDP, said she is working on a private member's bill to restrict afforestation and limit the amount of farmland foreigners can own.