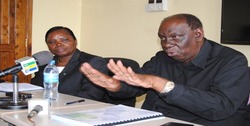 Minister for Agriculture,Food Security and Cooperatives Mr Stephen Wassira addresses a press conference as the ministry's permanent secretary Sophia Kaduma looks on in Dar es Salaam yesterday. The government yesterday sacked senior officials of the Rufiji Basin Development Authority (Rubada) and put them under investigation over the disappearance of more than Sh2 billion being development funds. (Photo: Venance Nestory)
The Citizen | 9 April 2015
Top Rubada officials in Sh2.6bn scandal
By Saumu Mwalimu
Dar es Salaam. The government yesterday sacked senior officials of the Rufiji Basin Development Authority (Rubada) and put them under investigation over the disappearance of more than Sh2.3 billion development funds.
The sacked officials include the authority's acting director general Aloyce Masanja, finance director Filozi Mayayi and plan and investment director Tabu Ndaturu.
Reading a report prepared by the special committee that was formed to investigate the long time complaints over the mismanagement of funds, the minister for Agriculture, Food Security and Cooperatives, Mr Stephen Wassira, said the three have been sacked over poor management and abuse of office.
According to Mr Wassira, due to poor distribution of work, some top officials forced their way into doing some responsibilities which they were not supposed to be performing.
"The committee found that there was a weakness in the system that was created by the Rubada officials so as to give themselves loopholes to abuse the office. For example, due to lack of proper distribution of responsibilities, the acting director handled finance matters while there are finance officers… he was walking with the Rubada fund in his pocket and made payments," he noted.
"The investors were also complaining about being charged some money to facilitate investment procedures, but the money was not channelled to Rubada accounts and the investors were not given the land," he said, adding that the investors have started to demand their money or be given the land which they paid for.
He said, according to the report, the officials received Sh2.7 billion from the investors who wanted to work in various projects in the basin, but only Sh714 million was tracked to Rubada accounts.
The report has discovered a loss amounting to Sh2.34 billion being funds collected from investors, Sh319 million which was meant for construction of a youth agriculture camp in Rufiji, Sh58 million which was supposed to be remitted to the National Social Security Fund (NSSF) as workers' contributions, Sh13 million which was issued as loans but was never repaid and Sh13 million which was spent by the accused officials.
"After this report we can say that Rubada doesn't have a management, but mismanagement, and therefore we have directed the board to immediately fill the post of chief executive officer by finding persons who will act in the vacant positions, but also arrange for new recruitments for well qualified people as soon as possible," he said.
Mr Wassira added that the three officials might be taken to court depending on the outcome of the investigations.