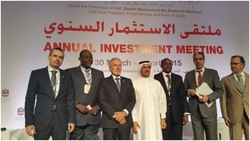 The 2015 Annual Investment Meeting in Dubai brought together Economic and Trade Ministers from the UAE, Ghana, Morocco, Portugal, Spain and Macedonia to discuss how direct investment could be channeled into agribusiness to achieve food security and prosperity.
Spy Ghana | 9 April 2015
Ghana Trade Minister leads team to investment forum in Dubai
Minister of Trade and Industry, Dr. Ekow Spio Garbrah, has led a Ghanaian delegation to this year's Annual Investment Meeting (AIM 2015) in Dubai aimed at promoting Agribusiness in Africa, Europe and the Middle East.
The meeting brought together Economic and Trade Ministers from the United Arab Emirates (UAE), Ghana, Morocco, Portugal, Spain and Macedonia to discuss how best direct investment could be channeled into agribusiness to achieve food security and prosperity.
Ghana was represented by the Ministry of Trade and Industry, Ghana Free Zones Board, Ghana Investment Promotion Centre, Ghana Tourist Development Company Limited, Accra Metropolitan Authority and Kumasi Metropolitan Assembly, among others.
The investment meeting, which was under the patronage of Sheikh Mohammed Bin Rashid Al Maktoum, UAE Vice President and Prime Minister of Dubai, brought together the world's leading academics, experts and practitioners to discuss the essence of innovation for growth and development. The theme for AIM 2015 was "Sustainable Development through FDI Induced Innovation and Technology Transfer",
Speaking at a Ministerial Roundtable discussion, Dr. EkowSpio-Garbrah touted Ghana as one of the best investment destinations in the world, stating that Ghana was blessed with rich natural and high human resources including vast arable land for mass agricultural production.
Adding, "Ghana is also blessed with political and economic stability which are made possible by respect and rule of law and socio-cultural heritage.
"Ghana has created the environment for foreign investments to thrive. We have good legislation that provides tax incentives, especially for those who locate their business within our FREE ZONES enclave", he noted.
According to the Minister, the country's rich arable lands have attracted investors from countries like Korea and China to invest in crop production. He called on foreign investors to choose Ghana when considering destinations to make investments.
The Minister of Economy of the United Arab Emirates, Sultan Bin Saeed Al Mansouri, urged countries seeking to promote FDI to formulate policies and programmes that enhances direct investment into agribusiness.
He re-iterated that some countries have not put in place the required laws and regulations to govern investments in their countries therefore making it difficult for investors to make huge and long term investments. According to him, the UAE was ready to partner with any country whose laws and regulations promote FDI in agriculture.
"This is because we import 85 percent of food consumed in our country. In all, the Middle East countries import over 60 Billion dollars worth of food which means there is the need to do more investments in agriculture" Sultan Mansouri said.
He added that in the light of the situation, the UAE Has designed a strategy to make huge investments in countries that have vast arable land.
He called on the participants to set a team that would champion the cause of promoting FDI in agribusiness in their respective countries.
On their party, Chief Executive Officers of Ghana Free Zones Board (GFZB) and Ghana Tourism Development Company Limited (GTDC) advocated for collaboration between all investment agencies in Ghana to speed up the promotion of investment and tourism giving the direct relationship between the two activities.
According to Mr. KwadwoTwumBoafo and Mr. Samuel Atta Mills, the time has come for investment agencies in the country to work together with agencies within the tourism sector to develop a comprehensive plan aimed at attracting investors into Ghana's untapped tourism sector.
Acknowledging the vast investment opportunities, the CEOs of the two state-owned agencies noted that Ghana stands the chance of mobilizing revenue if steps are taken to make the tourism sector attractive to potential investors.
Both CEOs called on other investment promotion agencies to team up with the GFZB and GTDC for the promotion of Investment and Tourism.
Explaining the need for multinationals to invest in Ghana, the Executive Secretary of the GFZB noted that Ghana is the preferred and highly favored destination for enterprise development in West Africa where investments are guaranteed against nationalization and expropriation making it a safe destination for investors.
According to him, a lot of investment opportunities exist in priority sectors such as Oil and Gas, Agro-Food processing, ICT, Floriculture, Textile or Apparel manufacturing, Pharmaceuticals among others. He emphasized that these areas are not mutually exclusive and that investors can invest and add value to any of Ghana's rich endowments. "As the primary agent for industrial development in Ghana, the GFZB places so much premium on value addition for export as well as the numerous and generous incentives for investors", he added.
On his part, the CEO of Ghana Tourist Development Company Limited, Mr. Atta Mills, singled out the tourism sector, stating that it was time steps were taken to woo investors into that sector. To achieve this, Mr. Atta Mills reiterated MrTwumBoafo's call for a harmonization of activities of GFZB, GTDC, GIPC and other investment promotion agencies to pay particular attention to Ghana's tourism sector. "The time has come for us to work together to develop the tourism sector. We have a lot of resources that other countries do not have yet their tourism industry is very unattractive. I believe we can do more than we are doing now. As soon we get back we need to start talking…all the agencies must come together to achieve this," Mr. Atta Mills noted.