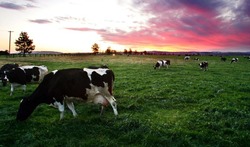 Photo: Kitty Hall
Australian Financial Review | 7 April 2015
Fonterra eyes rival farmers with agricultural funding fix
by Timothy Binsted
Fonterra Australia chief executive Judith Swales says the dairy giant's new Equity Partnership Trust should help the company win farmers from its competitors.
The trust could be ready to start making its first investments in dairy farms in about October this year, she said.
In November, the world's biggest dairy exporter starting consulting its farmers about establishing an independent trust that would provide long-term equity capital to invest in farms supplying Fonterra.
Ms Swales said the trust would help Australia reverse its decade of declining milk production and get farmers growing again.
"Capital markets can be constrained and farmers want to reduce their reliance on core bank debt," she said.
"Milk supply [in Australia] has been growing at 2 to 3 per cent in the last couple of years and before that it was in decline. We hope to get growth up to 5 per cent or 6 per cent."
Another round of farmer consultations took place in March and, pending further feedback from farmers, the fund should be ready to make its first investments in October, she said.
Timing is right
"The timing for this [fund] is right. "Free-trade agreements have given us greater access to Asian markets and we need farmers to be growing."
The trust could help New Zealand-based Fonterra, the second-biggest dairy processor in Australia, win farmers off rivals such as Murray Goulburn and Bega Cheese, she said.
"This allows farmers to focus on what they do best, producing high-quality milk without having to worry about trying to be investment bankers."
The fund will be mandated by its trust deed to invest in farms supplying Fonterra and, in some cases, to invest in farms where the supplier intends to move from a competitor and supply Fonterra.
Last year, Fonterra asked a handful of investment banks to pitch for an advisory role on the trust before settling on UBS.
UBS Global Asset Management has been managing a US farmland portfolio for more than 25 years and currently manages more than $US1 billion ($1.32 billion) in US agricultural funds.
The trust would be an open-ended, independently managed, fund pooling capital from investors with long-dated liabilities such as sovereign wealth funds and pension funds to invest in land and fixtures of dairy farms through a farm-owning entity, Ms Swales said.
Majority stake
The farmer would generally maintain a majority stake to retain farm ownership in the hands of suppliers and to ensure the farmer is motivated to generate a return for the trust investors.
A separate farm-operating entity would earn revenue and incur expenses and make regular payments to the farm operating entity based on farm profitability, she said.
Fonterra corporate finance and strategy head Alex Duncan, who is heading the project, said the trust could mitigate a perennial funding problem for agriculture by providing farm enterprises with long-term equity.
"Agri-land needs a different model to access long, patient pension fund capital with a 30-year horizon. There has been a gap in the market to find long-dated equity for farmers," he said.
Mr Duncan helped pioneer Fonterra's innovative Trading Among Farmers scheme and the group's GlobalDairyTrade auction.
He was a key part of the Fonterra Shareholders' Fund, a dual-share structure unit trust listed on the ASX and NZX.
Looking to emulate
Victorian dairy co-operative Murray Goulburn is looking to emulate parts of the Fonterra Shareholder Fund model with its $500 million listing on the ASX planned for June this year.
Mr Duncan said he expected the new equity trust would be emulated by competitors if it was implemented and succeeded.
"We may be imitated. We want to be innovative and if people follow us that is fine," he said.
"I know when we kicked off GDT [GlobalDairyTrade] in 2008 it totalled 160,000 tonnes and we didn't have a view on how big it would get. It is now around 1 million tonnes a year."
Fonterra didn't have a view on how big the new equity trust should be, but it would be allowed to get to its "natural scale", he said.
Mr Duncan and Ms Swales both declined to comment on the potential size of the trust.
It is understood it could start in the low hundreds of millions and possibly grow into billions.