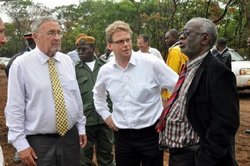 Zambian Vice President Guy Scott (left) and the Minister of Labour Fackson Shamenda (right) visit the farm of Amatheon, with Carl Heinrich Bruhn, CEO of Amatheon (middle). (Photo: Amatheon Agri)
The Herald | 12 February 2015
Amatheon Agri expands grain production
Amatheon Agri, a Berlin based agribusiness and farming company, is set to embark on a countrywide expansion of grain production after a successful pilot project which saw the company partnering local maize farmers on contract farming basis. The company started operations last year, partnering five farmers in Norton and Murehwa, and has financed maize production on about 900 hectares, chief executive Mr Carl Heinrich Bruhn said in an interview on Tuesday.
Already, the company has farming operations in northern Uganda where it has acquired land and is growing maize sorghum and sunflower on land measuring 1 600 ha.
A similar model has been replicated in Zambia where it has financed 2 500 ha of cropping area.
"When we started looking at other opportunities a year ago, I came across Zimbabwe, but it was not on my list because of perceptions," said Mr Bruhn. "But I thought it was really worth investigating. We did our due diligence and I was really impressed.
"We saw much more chances that risks as opposed to other investors. We set up the company and identified farmers whom we engaged on a contract farming basis.
"We bought the machines, brought in new technology and provided them technical capacity. It was a very successful start and very efficient compared to other set ups in Zambia and Uganda. Our concept in Zimbabwe proved to be very successful and we would like to expand our model of business and investments," he added.
Amatheon Agri Zimbabwe chairperson and managing director Dr Sekai Nzenza said the business model would help small scale farmers improving productivity while going a long way in improving livelihoods.
Amatheon Agri Zimbabwe board member, Mr Ivan Murambiwa said the company believed in Zim-Asset and its business model fed well into the blueprint's food and nutrition cluster.
German ambassador to Zimbabwe, Ulrich Kloeckner applauded Zimbabwe authorities for helping in ensuring the success of the pilot project. "I am very impressed how fast the project has been implemented," he said in an interview yesterday.
"It is a good sign for future investors as this will encourage them investors to come."
Going forward, Mr Bruhn said the company would also look at investing in livestock production.
In Zambia, Amatheon bought majority shareholding of Real Meat Company in September last year.
Its expertise, brand equity and processing asset will strongly complement Amatheon's growth strategy. The company also entered into an agreement to acquire More Beef in Zambia in November last year.
The transaction is to be executed through The RMC, in which Amatheon agreed to acquire a controlling stake.