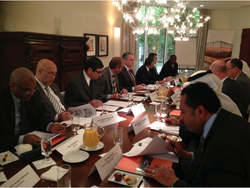 Participants at the Roundtable on responsible investment, hosted by the Dutch embassy in Riyadh, January 20, 2015
Agroberichten Buitenland | 5 March 2015
Roundtable on International Responsible Agricultural Investment held in Riyadh
The Netherlands started to develop ideas for an international trilateral approach in responsible investments with emphasis on partnership between the GCC, African countries and the Netherlands for investment for food security.
A number of African and South-American countries were represented by their Ambassador at the roundtable on the 20th of January at the Embassy of The Netherlands in Riyadh. The Saudi private sector was represented by the Chairman of Arasco (also Chairman of ADF and SALIC) and Al Rajhi Investment; from Sudan, Agrogate was present. From the public sector were present representatives of the KSA Ministry of Agriculture and the NL Ministry of Economic Affairs.
The initiative taken by the Netherlands Embassy in Riyadh by organizing this roundtable on such a relevant international topic as responsible agricultural investment has been clearly welcomed by all participants. The Netherlands expressed to become a long-term partner in a trilateral approach pursuing cooperation for sustainable and inclusive growth. The high-level presence of African and South American countries by their Ambassadors and of Saudi private and public partners at this round table was in itself unique and discussions and interventions were open and transparent, in a spirit of sharing realistically existing bottlenecks and contributing in a search for solutions. The perception of "landgrab" is not supported by representatives of sub-Saharan countries. The observations from the mapping study by the Netherlands in GCC-investments abroad were well accepted and conclusions were supported: existing constraints need improvement especially in sub-Saharan Africa, possibilities in South America, often more domestic marketing of products than internationally, plantation model is pursued. Brazil is already involved in a trilateral approach in many sub-Saharan African countries, through public and private partners. The Netherlands is welcomed as a trilateral partner in providing advanced technology, market opportunities, removing obstacles, improving image of GCC investments through PR, combining large investments with SME activities. The outcome of the roundtable will be used as input for the high-level panel at GFIA2015, March 9, 2015.
The full report of the roundtable can be downloaded below.