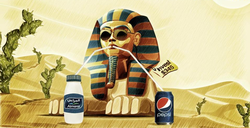 Saudi-owned company Beyti, in which Almarai owns 52%, intends to pump EGP 4bn in new investments to Egypt to establish a new juice plant and two milk farms. Beyti is a subsidiary of the International Company for Dairy and Juice, and is also 48% owned by Pepsico. In the same period, Almarai plans to establish a mid-size farm with 5,000 cows for milk, and another major 20,000 cow milk farm that will be "the largest" in Egypt.(Image: Bidness ETC)
MENAFN | 29 March 2015
Almarai announces new investments, studies acquisition
Saudi dairy company Almarai is planning to invest 400m to expand its current projects in Egypt, anonymous sources told Al-Borsa newspaper on 23 March.
The company is also studying to acquire other food and agriculture companies.
Almarai was said to be studying the acquisition of Dina Farms, stock market-listed Qalaa Holdings has announced its intention to exit its remaining food businesses. It was referring to Egypt's giant confectioner, Rashidi El-Mizan, and private-sector milk producer Dina Farms.
Sources added that a number of investment banks have proposed to consult Almarai in its acquisition process, noting that the dairy producer is currently weighing between HC and CI Capital companies.
Almarai was said to be among Saudi companies that planned to expand their business in Egypt, along with food oil firm Saffola and Jannat Agriculture Investment Company. Both latter companies were said to invest EGP 5bn to expand their agriculture and industrial projects, according to Saudi-Egyptian Businessmen Association (SEBA) director-general Ahmed Darwish.
In June 2014, Saudi-owned company Beyti, in which Almarai owns 52%, has announced it intends to pump EGP 4bn in new investments to Egypt to establish a new juice plant and two milk farms. Beyti is a subsidiary of the International Company for Dairy and Juice, and is also 48% owned by Pepsico.
Abdul Rahman Abdul Mohsen Al-Fadly, CEO of Almarai, said in the same period that his company has developed the five-year plan to expand operations. The plan includes the expansion of the company's existing factory in addition to establishing a new plant for juices, a mid-size farm with 5,000 cows for milk, and another major 20,000 cow milk farm. This would be "the largest" in Egypt, and will come include EGP 1.5bn in investments, said Al-Fadly.
The company's board approved the first phase of the plan for investments of EGP 2.5bn, Al-Fadly said. He added that establishing the milk farm depends on the Egyptian government providing a plot of land suitable to implement the project.
Al-Fadly also said the company's investment comes as part of plans to expand in the Egyptian market and to expand the company's share of exports, especially to African countries.
"The Egyptian market is promising for investment opportunities and Almarai has achieved significant growth in its operations since acquiring, along with Pepsico, Beyti, which allowed it to increase revenues by 38% per year since 2009," said Al-Fadly,
Almarai has pumped EGP 1.25bn into Egypt since acquiring Beyti, according to Mohamed Badran CEO of Beyti. The company currently has 20% of market share in terms of juices, dairy, and yogurts, and that the company's five-year plan aims to push this number to 35%.
Almarai was established in 1977 by Saudi Prince Sultan bin Mohammed bin Saudi Al-Kabeer to transform Saudi's traditional dairy farming industry to meet the growing market needs. Almarai entered the Egyptian market through buying Beyti that was active in the Egyptian market since 1998.