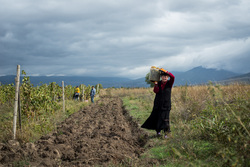 Global Voices | 27 March 15
Georgia to Curb Foreign Land Sales
By Tamta Tvalavadze
Government uneasy about its predecessor's free-for-all approach to attracting investment.
Georgia is planning to change the law to make it harder for foreigners to buy farmland. The bill is part of the current ruling coalition's move away from the open-door investment policy of the last government.
If legislative amendments now before parliament are passed, only foreign nationals who have Georgian spouses or partners will be allowed to acquire agricultural land. If they divorce, they must sell their share of the property within six months.
Foreign nationals will be limited to acquiring 200,000 square metres, while foreign companies can own up to two square kilometres.
Planners say the law is in Georgia's national interests given that it is a small and mountainous country where arable land is scarce.
Concerns about foreigners buying up land stem from the last government, led by then president Mikheil Saakashvili, who deregulated the economy to maximise foreign investment. In the farming sector, this allowed foreign nationals to acquire land in this fertile country. They included land-poor farmers from Punjab in India and foreign companies keen to develop Georgia's ancient tradition of winemaking.
The Georgian office of international watchdog group Transparency International has been closely involved in discussing the bill, and its chief lawyer in Tbilisi, Ekaterine Bokuchava, says the restrictions run contrary to the Georgian constitution.
"We believe this point needs to be entirely removed from the draft," she said. "Property that a foreigner holds after a divorce, or owns as an inheritance, cannot be confiscated."
Although the current Georgian Dream coalition has made agriculture a priority area for economic development, the sector accounted for less than two per cent of foreign direct investment last year. Critics of the bill say it will only deter much-needed investors.
Salome Gelashvili, a researcher at the International School of Economics at Tbilisi State University (ISET) says the land market in Georgia is not otherwise regulated, so it is unfair to apply exclusions just to foreigners.
Neither the government statistics office nor the land registry keeps track of how much land is in foreign hands. But Transparency International puts the figure at 185 sq km, under one per cent of all arable land.
ISET's position is that since foreign-owned land accounts for such a tiny proportion of the whole, there is no need for this kind of regulation, which will only put off potential investors.
"Investors must decide for themselves how much land they need. The size of the investment can be regulated, but not the land area," Gelashvili said.
The Saakashvili administration was ousted in October 2012, and by June the following year, its successor had imposed a moratorium on new sales of land to foreigners. This ended in December last year when the constitutional court ruled that it was unlawful.
The moratorium has prevented new acquisitions by the likes of Château Mukhrani and Georgian Wines and Spirits, companies that are part- and wholly-owned, respectively, by the Marussia Beverages group.
Elene Totibadze, a senior legal adviser the Marussia group, says the proposed curbs will continue to make life difficult because the maximum permissible area is not enough to run commercially viable vineyards.
In theory, the company could apply for a special exception to a committee set up to rule on such matters, but that is likely to cost more time and money than it is worth.
"The wine-making sector is very reliant on agricultural real estate, so with the introduction of these caps, opportunities to grow the company have become more complicated," she said.
When IWPR approached the justice and agriculture ministries to discuss the land bill, the former said it no longer had a hand in the legislation, while the latter said it was unable to comment at the moment.
Tamta Tvalavadze is a student at the Georgian Institute of Public Affairs.