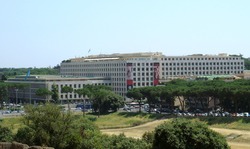 International Agri-Food Network | 20 March 2015
Kick-Start Meeting: CFS Principles on Responsible Agricultural Investment
March 20, 2015 – This week members of the Private Sector Mechanism (PSM) were at the UN FAO Head Quarters in Rome to give their views on how new Principles on Responsible Agricultural Investment can be used to respond to the urgent need to increase global investment in farm production. The ten Principles were endorsed by the UN Committee on World Food Security (CFS) in October 2014 and are designed to 'provide a framework to rethink investment in agriculture and food systems'. The agri-business community was invited to help draft the Principles, which look at natural resource use, land rights, employment, empowerment of women, farm innovation, and more.
At this week's meeting the PSM members highlighted that on average, businesses of all sizes provide 60% of GDP, 80% of capital flows and 90% of jobs in developing countries, and are the major source of the US$1 trillion a year needed to finance development. In the context of the CFS Principles, governments can leverage this potential by prioritizing stable, predictable and transparent regulatory frameworks and legal systems to attract sustainable investments in agriculture.
The Private Sector Mechanism speakers at the 'Kick-Start' meeting were:
Barrie Bain, International Fertilizer Industry Association
Natalia Federighi, Yara International
Bernd Schanzenbacher, EBG Capital
The PSM official statement is here (PDF 352KB).