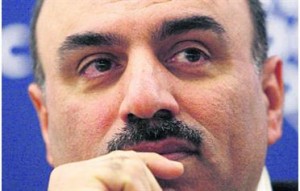 Emirates Business 24/7 | Thursday, August 28, 2008
by Karen Remo-Listana
Three of the Gulf's biggest financial house has teamed up to launch three investment vehicles worth $10 billion (Dh36.7bn).
The 'strategic' alliance between Gulf Finance House, Ithmaar Bank and Abu Dhabi Investment House covers the infrastructure, agricultural and hospitality sectors and are expected to bring return on investments in 18 months.
And although the heads of these companies are siblings, the companie's structure will operate as stand alone businesses under their own management, Rashad Janahi, Managing Director of Abu Dhabi Investment House, told Emirates Business.
"This has nothing to do with the relationship of the brothers," he said. "The top management of these three institutions are the ones behind these. It's more a human resource thing that they went to reach this institutional level of relation."
The Shari'a-compliant initiatives are InfraCapital, which would provide tailored infrastructure development and finance; AgriCapital which will focus entirely on serving agricultural ventures and Hospitality Development Fund (HDF) that is set to bank on the growing opportunities across the global hospitality sector.
"All these initiatives will go ahead immediately," said Esam Janahi, Chairman of Gulf Finance House.
With proposed authorised capital of $6bn and target paid-up capital of $1.5bn, InfraCapital is expected to feed the capital-starved infrastructure sector.
It will cover the transport, power, water, energy, education and social infrastructures sectors, which will demand up to $545bn of investment over the next decade.
"But unlike other investment banks, we want to give back something to the community," Khalid Abdulla-Janahi, Chairman Ithmaar Bank, told Emirates Business. "In addition to hard infrastructures, we are also going to invest in soft infrastructures such as education. It will not come for free, we will make profit but the community will also benefit."
Khalid said they are considering Australia, China, the Philippies, India and North African countries for food production and livestock.
AgriCapital on the other hand will provide financing solutions for the agriculture sector. With proposed authorised capital of $3bn and target paid-up capital of $1bn, it will pour in capital into five principal lines – food production, livestock, biomedicine, bio-fuels and agricultural technology.
Under the AgriCapital umbrella, an investment bank specialised in agricultural investments and another investment company specialising in agricultural technologies and bio-technology will also be created.
"There are three basic things here – biotechnology, food and the bank. One of the solutions to the current food problem is the bank itself because it will invest in the research and development which in turn will give us the feedback on biotechnology," Rashad said.
The Hospitality Development Fund will focus on developing new hospitality-centric vehicles including hotels, transport solutions and apartment complexes. The fund will also invest on existing hospitality companies who show tremendous growth potential.
The fund will be released in the next quarter with a size of $1bn and an initial closing of $300m. The success of the fund is banked on each firm's hospitality experience through ADIH's expertise in the conception of Entertainment Cities, Ithmaar's work on Delmonia and GFH's strategic relations with Banyan Tree.
"From our studies, each has its own lifecycle of ROI but we are looking at achieving ROI from long term, midterm to short-term," Rashid said. "For example, the ROI in the hospitality fund may take five to six years. But in Agricapital, once we start the bank and it starts to provide funds, we will then be able to give ROI to the shareholders. Also, some of the funds are only for 18 to 24 months so we'll get returns from these."
In addition to these investments, GFH, ADIH and Ithmaar are further expected to ink more agreements in the next few months. "We are not only looking at those three initiatives. There may be more strategic alliances," Rashid said.
"There is also a plan that there will be more investments within these three firms," Mohammed Khalil Alsayed, Chief Executive Officer of Ithmaar Development Company, a subsidiary of Ithmaar Bank, said.
---