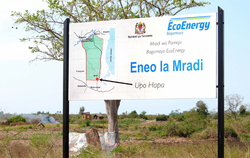 "In Nigeria, Mozambique and here in Tanzania, smallholder farmers are being moved off their land to make way for sugarcane, rice and other crop-growing projects which are being backed by New Alliance money."
ActionAid via EurActiv | 18 March 2015
Putting the brakes on New Alliance land grabs
What kind of role should the private sector have in the post-2015 fight against poverty and food insecurity? And how should EU governments ensure it is genuinely inclusive and responsible? Yaekob Metena explores the possibilities.
Yaekob Metena is Country Director for ActionAid Tanzania.
With small and medium sized businesses accounting for around 9 out of 10 jobs in some developing countries, it's clear that responsible private sector growth may go some way to answering the first question, particularly in relation to women farmers, who make up the bulk of small business owners in Africa.
And, that's where the answer to the second question becomes crucial. Both the European Commission's Agenda for Change and last year's communication on the private sector show the EU sees a big role for business in driving down global poverty rates. But despite the positive noises from Brussels, the early indications suggest that we are on course for an EU development policy mismatch that pits the interests of large multinational agribusinesses against those of the small regional farmer they aim to help.
Much of the EU's focus on the private sector is through its membership of the G8's New Alliance for Food Security and Nutrition (which is predominantly funded by the EU, the US and several European countries). This 3 year-old public-private partnership will invest €7.57bn in 10 African partner countries in a 'win-win' agricultural development and food security strategy that will lift 50m people out of hunger by 2022. The EU alone is committing €1.2bn.
Noble aspirations. But several examples from across Africa show that the New Alliance is having precisely the opposite effect. In Nigeria, Mozambique and here in Tanzania, smallholder farmers are being moved off their land to make way for sugarcane, rice and other crop-growing projects which are being backed by New Alliance money. And, in Tanzania at least, none has been offered the choice of whether to be resettled or not: they have only been offered a choice of whether to receive cash or land for resettlement. This violates the internationally recognised principle of prior, free and informed consent and constitutes a land grab.
Farmers here are also expected to buy into a risky outgrowers' scheme which requires them each to take out around approximately €15,129 in loans. The minimum yearly farming wage here is €499, meaning these loans represent a commitment of 30 times their annual salary. The company involved, Swedish-owned EcoEnergy, estimates it will take at least 7 years to pay back. In Sweden, this would be the equivalent to a farmer taking out a loan of €2.52 mn.
If companies are serious about giving smallholder farmers a more secure future, this means local communities must be allowed to accept or refuse the projects and resettlement, be offered alternatives to the project, as well as different forms of compensation. And information (including financial) needs to be made much more readily available – as a priority for the communities living in the affected areas, but for all Africans who live in a country where a New Alliance project is planned.
For their part EU governments and other donor agencies must practise what they preach when it comes to joined-up, coherent development. This means taking a far more hands-on approach to ensuring projects involving the private sector are genuinely fair and inclusive. It also means attaching stringent conditions to funding, including criteria for safeguards, accountability and transparency. They should also monitor these elements far more closely than they have been.
Longer term, this is still the wrong approach to fighting hunger. The governments supporting the New Alliance should stop all engagement in and support for this initiative and replace it with others that genuinely support small-scale food producers and advance sustainable agriculture.
The New Alliance is not just a prototype for future development models. It is also the litmus test for how EU governments view their own roles in making sure it is fair and inclusive. Failure to get it right will not only be expensive and costly but could end up achieving the opposite goal that governments want to achieve - namely food security and a brighter future for millions of smallholder farmers across Africa and the rest of the developing world.
Take action - Stop EcoEnergy's land grab
Rural communities in the Bagamoyo district of Tanzania are opposing a much-lauded sugar cane plantation project planned by EcoEnergy, a Swedish-owned company that has secured a lease of over 20,000 hectares of land for the next 99 years and which is about to push smallholder producers off their land.
Although the company has conducted consultations with affected villagers, the research conducted by ActionAid found that the majority have not been offered the choice of whether to be resettled or not, and have not been given crucial information about the irreversible effects the project may have on their livelihoods and their rights to food and land. By failing to obtain the free, prior and informed consent of the communities in the area affected by the project, EcoEnergy is grabbing the land of these communities, or risks doing so.
► Download the report from Actionaid: http://www.actionaid.org/sites/files/actionaid/take_action_-_stop_ecoenergys_land_grab_embargoed_report.pdf