Mongabay| 12 March 2015
New report: commercial agricultural expansion fueling illegal logging and land conflicts in Myanmar
By Shreya Dasgupta
The Myanmar government has been allocating land for large-scale private agricultural businesses in the country's biodiversity-rich forests at an alarming rate, according to a
new report
released this week by
Forest Trends,
a Washington-based non-profit organization. And these concessions may be fueling illegal timber harvests and intensifying land conflicts, the report alleges.
Between 2010 and 2013, the area of land marked for commercial agriculture has increased from nearly 2 million acres to 5.2 million acres, a jump of almost 170 percent, according to the report. Much of these land concessions are within high conservation value forests. The government has also identified an additional 11 million acres of these forests for private agribusiness projects, the authors report.
"As Myanmar opens to global markets, and concessions for global food production are on the rise, agribusiness has become the primary driver of deforestation in Myanmar," Michael Jenkins, President and CEO of Forest Trends, said in a statement.
These agriculture concessions also provide legal loopholes for companies to engage in activities other than actual planting of promised crops, the report states. For instance, in the states of Kachin and Tanintharyi, which have over 60 percent of the total land concessions, less than 20 percent of the agricultural lands have been actually planted.
Instead, private companies are likely using the agricultural land concessions in these forests to get easier access to timber and logging operations, by bypassing the hassles of obtaining a logging concession, the report notes. The concessions might also aid in "legal" land grabs for the purpose of land speculation, with little intention of planting the promised agricultural crops, the authors write in the report.
Since 2012, researchers at Forest Trends began noticing large volumes of high-value timber being exported from the Mekong countries. "This was at the same time that official forest concessions for timber extraction were shutting down," Kerstin Canby, Director of Forest Trade and Finance, Forest Trends, told mongabay.com.
"The data was poor across the Mekong, but we began to suspect that the 'missing' timber was being sourced from the clear-cutting of a different kind of concession - economic land concessions, agri-business concessions – different names in different countries," Canby added.
In fact, according to a 2014 report released by the Environmental Investigative Agency (EIA), out of a total 22.8 million cubic meters of logs exported by Myanmar between 2000 and 2013, about
72 percent
was illegally harvested.
The statistics become glaring given that Myanmar lies in the middle of the Indo-Burma biodiversity hotspot. Almost half the country -
about 48 percent
– has some forest cover, according to estimates by United Nations Food and Agriculture Organization (FAO) in 2010. But less than 10 percent of these forests are primary forests. Moreover, the country is losing its forests at a rapid pace. Between 2001 and 2012, it lost about 1.5 million hectares of tree cover, according to
Global Forest Watch.
The case of two states
Ever since Myanmar re-opened its economy to large foreign capital influx in 2011, after decades of military ruling, the country's forests have faced added risks. The high conservation value forests in the country are especially threatened by timber extraction for the purpose of export. Large-scale commercial agricultural concessions within forests appear to have hit two states especially hard: Kachin and Tanintharyi. Both these states have extensive cover of high conservation value forests that is facing fast-paced deforestation.
For instance, the state of Kachin lost about 200,000 hectares of tree cover between 2001 and 2012, while Tanintharyi lost about 180,000 hectares during the same period, according to Global Forest Watch.
Kachin and Taninthary also have the largest percentage of commercial concessions allocated to them - about 3.3 million acres or 60 percent. Wide swathes of forests in these states are either being quickly replaced by rubber or oil palm plantations, or being used as a cover for timber logging.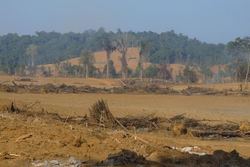 Forest clearance in Hukaung Valley Tiger Reserve in Kachin for a Yuzana agribusiness concession, according to Forest Trends. Photo courtesy of Forest Trends.
In Tanintharyi, for instance, 1.9 million acres of concessions have been officially set aside for mainly palm oil and rubber plantations. But only about 0.36 million acres have actually been planted, "fueling claims that logging is the prime incentive for profit," the authors write.
In Kachin, too, out of the approximately 1.4 million acres of concessions, allocated for rubber and biofuel crops like sugarcane or cassava, less than 0.18 million acres, or 12 percent, have been planted upon.
This small percentage of actual planting is because of a host of reasons, Kevin Woods, researcher and analyst for Forest Trends, and author of the report, told mongabay.com. "These include…lack of capital available to commit to such an investment by the company; lack of technical know-how and extension; and perhaps most prevalent and revealing, using the concessions as generating profit from non-agricultural uses - in this case logging trees and land speculation."
According to Canby, it has become increasingly difficult to obtain logging rights in Myanmar. So businesses are using the rights of agricultural concessions, such as oil palm concessions, to harvest valuable timber instead.
"They may or may not ever plant the oil palm, and may just 'flip' the land later, thereby profiting from speculation," she said in the statement.
The report also alleges that the government has been de-gazetting protected forests to enable large-scale land acquisitions.
From 2004 to 2005, for instance, about 1.77 million acres of forest, including protected forest reserves, unclassified forests, and "other" forests, were de-gazetted to make way for resource extraction, energy infrastructure development, agricultural expansion, and military compounds, according to government data referenced in the report.
"There appears to be no systematic basis on which the government is de-gazetting demarcated forests," Woods said, "and no legal procedures or regulations were acquired during the course of our study."
Moreover, commercial agricultural concessions could worsen the long-standing conflict over land between the government and minority ethnic groups residing in Kachin and Tanintharyi. As an example, the authors write "many oil palm concessions in Tanintharyi, especially those closer to Thailand, are located on lands formerly inhabited by ethnic Karen populations who were forcibly evicted. Historical land-use claims by the Karen populations who wish to return to their original settlements since the tentative ceasefire with the KNU (armed Karen ceasefire group) present new challenges to the legality and ethics of oil palm production, rezoning for conservation, and resettlement of Internal Displaced Persons (IDPs) and refugees."
According to the report, no laws or policies in Myanmar officially recognize the customary laws or practices upon which many communities rely. Moreover, the local communities have no land-use or access rights to forest lands or areas designated as private agricultural concessions, despite their long history of cultivation and occupation of those lands, the report states.
"Addressing legality and rights issues will be critical to the sustainability of the forest product trade and relevant policy initiatives," Jenkins said in the statement.
Citations:
Greenpeace, University of Maryland, World Resources Institute and Transparent World. 2014. Intact Forest Landscapes: update and reduction in extent from 2000-2013. Accessed through Global Forest Watch on [date]. www.globalforestwatch.org

Hammer, Dan, Robin Kraft, and David Wheeler. 2013. "FORMA Alerts." World Resources Institute and Center for Global Development. Accessed through Global Forest Watch on [date]. www.globalforestwatch.org.

Hansen, M. C., P. V. Potapov, R. Moore, M. Hancher, S. A. Turubanova, A. Tyukavina, D. Thau, S. V. Stehman, S. J. Goetz, T. R. Loveland, A. Kommareddy, A. Egorov, L. Chini, C. O. Justice, and J. R. G. Townshend. 2013. "Hansen/UMD/Google/USGS/NASA Tree Cover Loss and Gain Area." University of Maryland, Google, USGS, and NASA. Accessed through Global Forest Watch on [date]. www.globalforestwatch.org.

UNEP-WCMC, UNEP, and IUCN. "World Database on Protected Areas." Accessed on [date]. www.protectedplanet.net.