Phnom Penh Post| 10 March 2015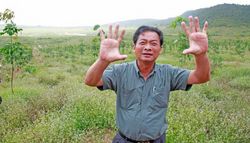 The government has decided to cut 14,000 hectares from economic land concessions belonging to 14 companies.
Photo: Heng Chivoan
Major tycoons added to concessions watchlist
Fourteen companies have been added to a Ministry of Environment watchlist for purportedly failing to live up to their investment promises.
The companies include firms owned by some of the country's wealthiest and most politically connected land barons, such as Mong Reththy and Sok Kong.
As well as placing the companies on the watchlist, the ministry said it had cut 14,000 hectares of land from economic land concessions (ELCs) owned by the firms, which would be reclassified and gifted to the families of soldiers and landless people.
Minister of Environment Say Sam Al said yesterday that a sharp drop in global rubber prices had led investors to "hesitate" and not follow through with their development plans.
"We are asking them to fill out forms to clarify the position of their investments, because after the rubber price began to fall, some companies hesitated," he said.
In 2012, Hun Sen issued a moratorium on the granting of new ELCs and called for a review of all existing concessionaires.
The Environment Ministry in its annual report last year said it had audited all 113 companies holding land concessions in the country, covering almost 650,000 hectares.
It said it had revoked the investment rights of 23 companies, covering more than 90,000 hectares, while three companies had voluntarily handed over more than 25,000 hectares of land.
Two of the ELCs cancelled last year belonged to controversial logging tycoon Try Pheap, one in Ratanakkiri province's Virachey National Park and another in Thmor Da district in Pursat province.
Under a decree jointly issued by the Environment and Agriculture ministries in May last year, each company must implement the "tiger skin formula" to guarantee that its ELC "does not affect the farming lands of villagers, community forest and protected forest", meaning that land inhabited by farmers must be cut out of the concession area.
Sok Kong could not be reached yesterday, but Reththy, said he was unaware of the development, as the ministry had not sent his company a letter of notification.
"Cutting down the land [size] does not affect my company's investment," he said.
Yi Soksan, a senior investigator for local rights group Adhoc, welcomed the decision but urged environment officials to visit disputed areas of the country to get a better picture of the issues.
"To reduce land disputes, the ministry officials have to go and investigate directly," he said.