The Citizen| 10 March 2015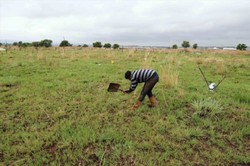 A woman marking her land. (Photo by Gallo Images / Sowetan / Thulani Mbele)
Youth activists condemn land given to Chinese company
A group of youth activists on Monday condemned the government's intention to approve the lease of 10,000 hectares of fertile land to a Chinese company wanting to grow tobacco for export.
"It is our submission that to allocate more land for tobacco than is allocated for food production is a deviation from the policy direction taken by the Namibian government through its Agriculture Ministry, which leans towards eradicating limitations to Namibia's capacity to provide food security and adequate levels of nutrition," Job Amupanda, leader of the youth activists, stated in his objection.
Amupanda, who organised mass applications for urban land by some 25,000 young Namibians to municipal offices last month, distributed his written objections to the media late on Monday.
Last week the Ministry of Lands and Resettlement placed advertisements in local media about leasehold applications for communal land in the country's northeastern Zambezi Region [formerly Caprivi Region].
On top of the published list in the advertisement was 'Namibia Oriental Tobacco cc', which applied for 10,000 hectares of land near Liselo in the Zambezi Region, one of the most fertile areas of Namibia.
The untouched land lies within the jurisdiction of the Mafwe Traditional Authority. Water for the huge tobacco farm will be drawn from the Zambezi River, whose water is shared by several countries.
The tobacco grown is solely for export.
In the advertisement, the ministry invited "interested parties to lodge with the Communal Land Board within seven days any (written) objection regarding the applications listed".
The seven-day deadline ended Monday afternoon.
Citing agricultural crop farming projects of the government under the national 'Green Scheme', Amupanda noted that the envisaged tobacco farm would cover more land than all Green Scheme projects together.
"There are a total of 8259 hectares cultivated under Green Scheme irrigation, whereas the planned tobacco farm would be 10,000 ha for tobacco," Amupanda objected in his letter with the letterhead "Land Activists".
The tobacco farm is planned by a Chinese investor 'Namibia Oriental Tobacco cc', which is believed to act as agency for the HongyunHonghe Tobacco Group situated in China's Yunnan Province.
HongyunHonghe Tobacco launched a cigarette-processing unit for Africa at Namibia's port of Walvis Bay two years ago to produce Honghe cigarette brands for sale in Africa.