ABC| 5 March 2015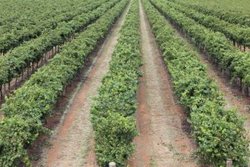 A property groups says 'sale and leaseback' agreements are becoming a more popular vehicle for investment in Australian agribusinesses. Photo: Clint Jasper
Foreign investment and thirst for capital drives growth in 'sale and leaseback' property deals
A new type of property deal is entering the agribusiness space as investor interest in the sector grows, according to property group Colliers International.
Sale and leaseback agreements were almost unheard of in agriculture five years ago, but a few major deals recently have put them on the map.
In its simplest form, it means selling land or assets to another party, with the agreement they will rent it back to you for a fixed term.
Olam Australia
entered into a $200 million, 18-year sale and leaseback agreement with Adveq Almond Trust.
Private equity group TPG, which owns Inghams Enterprises, generated $650 million by entering into a sale and leaseback of its properties.
More recently, the 415-hectare Qualco West Vineyard in South Australia's Riverland was sold to agriculture investment company Belvino Investments under a similar arrangement.
Colliers' national director of agribusiness Tim Altschwager said these types of sales were more common in capital intensive agricultural businesses, like horticulture and irrigated agriculture.
He said property sellers who entered into these arrangements were looking for an alternative to traditional finding.
"They weigh it up to see if those funds can be put into their current operations to get higher yields if they focus on the business side, rather than have all their capital tied up in land."
While the sale and leaseback agreement is gathering popularity at the moment, Mr Altschwager said fluctuations in currency and interest rates, as well as the value of Australian assets, all had the potential to change the appetite for this type of investment into the future.
Audio: Colliers International national director for agribusiness, Tim Altshwager, explains the current appeal of sale and leaseback agreements (ABC Rural)