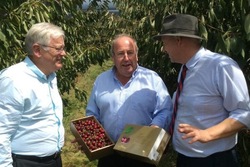 Trade Minister Andrew Robb (left) and MP for Lyons Eric Hutchinson (right), visiting Reid Fruits cherry orchard in Tasmania with Tim Reid (centre).
ABC Rural | 15 February 2015
Trade Minister defends tighter foreign investment scrutiny
By Sally Dakis
The Trade Minister Andrew Robb has defended the Commonwealth's move to increase foreign investment scrutiny for all but three trading partners.
From next month, the Foreign Investment Review Board will scrutinise farmland sales to foreign buyers that exceed a cumulative $15 million.
While that is in line with conditions written into last year's free trade agreements with China, Korea and Japan, the tighter restrictions don't apply to buyers from the US, New Zealand or Chile because of their existing free trade agreements with Australia.
Mr Robb said countries had not raised that with him as a concern, and that neither China, Japan or Korea "really pushed back" on the tighter FIRB scrutiny of farmland sales.
"I don't think they see that as a hindrance," he said.
"There are enormous advantages from foreign investment, including in agriculture. But buying agricultural land, like buying houses in the cities, is quite sensitive and we should look at that on a case by case basis to make sure it's in the national interest."
When asked if a "two-tiered system", with one threshold for the US, New Zealand and Chile and another for other countries, was an issue, Mr Robb said he didn't think so.
"[Those countries] have been traditional investors, and I do think the relationships are such that people aren't concerned about that," he said.
"They're concerned about many of the emerging countries - what it means, if there is large scale investment in Australia, what it means for agriculture.
"It's just really putting a check in the system so that we can ensure there's no investment that is against our interest."