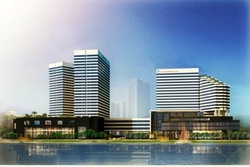 A blueprint of Hoang Anh Gia Lai Myanmar Center, which is the biggest property project of the company at the present.
Thanh Nien News | 12 February 2015
Vietnam's Hoang Anh Gia Lai divests from Myanmar property project to focus on farming
Vietnam expands foreign property ownership to boost economy
Vietnam's property market enters attractive phase: expert
Vietnam's real estate group Hoang Anh Gia Lai is divesting from one of the biggest property projects in Myanmar, saying it wants to focus more on agricultural investments.
The group has sold a 50 percent stake in a member company that is developing the US$550 million Myanmar Center to Rowsley, a real estate and consultancy firm partly owned by Singapore billionaire Peter Lim.
Vo Truong Son, a spokesperson of Hoang Anh Gia Lai, was quoted by local media as saying that the deal has relieved the group of some financial pressure.
He said it will invest part of the new $275 million into its cow farms. Another part will be used to pay debts and for its palm oil projects.
The group plans to raise its current herd of 30,000 cows to 200,000.
Financial statements from the group showed that sugarcane was its biggest earner last year, contributing around 34 percent to its total revenue of VND3 trillion.
Property development only made up 25 percent.
The Myanmar project, which is scheduled to open this April, is an office, hotel, apartment and shopping complex and is Hoang Anh's biggest property development at the moment.