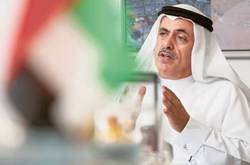 Eisa Al Ghurair, chairman of Al Ghurair Resources (Photo: Oliver Clarke/ Gulf News)
Gulf News | 9 Februrary 2015
Investors should work with farmers to secure food supply: Al Ghurair
By Sarah Algethami
Dubai: Eisa Al Ghurair, chairman of Al Ghurair Resources, the agricultural commodities arm of Dubai-based Al Ghurair Investment, warned on Monday of investors buying farmland in foreign countries, citing political risk.
Al Ghurair Resources imports grains from Europe, US, Canada, Australia and South America. It also operates facilities in Algeria and Egypt.
Al Ghurair said at a press conference on Monday at Gulfood 2015 in Dubai that the idea of foreign investors buying up farmland has become a "touchy subject" with the farmers and governments.
Many Gulf countries, which are reliant on food imports, are known to own farmland abroad. The UAE relies on imports to meet around 90 per cent of its food requirements.
Al Ghurair said that there was considerable political risk in buying up farmland in certain countries with unstable governments. He said investors should instead work more closely with farmers to guarantee food supply, while also not exposing themselves to unnecessary political risk.
In 2012, Al Ghurair Foods said it was planning to acquire 100,000 hectares of farmland in Sudan to grow grain.
Other factors that should be considered when buying farmland abroad include the country's logistics, investment environment and population growth, among others.
Speaking about the company's expansion, Al Ghurair said the silos in Algeria, which have a capacity of 162,000 tonnes of grain, will be operational in June this year. The company has also rented grain silos in Egypt. He said that the company is looking to invest in South America "as a source of grain for trading, not for food security".