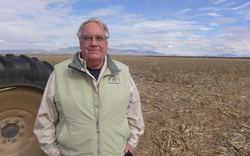 Howard Buffet is investing US$100-500 million in the Rwandan government's 100,000 ha irrigation project.
PRNewswire | 4 Februrary 2015
Rwanda welcomes new $500 million investment from Buffet Foundation
KIGALI, Rwanda -- Howard Buffett - the eldest son to multi-billionaire investor and philanthropist, Warren Buffet, will invest $500 million (Rwf 350 billion) to transform agriculture production in Rwanda, away from subsistence.
Last year, Howard Buffett's - Sequoia Farm Foundation unveiled a 10-year strategic plan dubbed: "The big idea" and "Rwanda."
Howard Buffett, a personal friend to President Paul Kagame, has visited the country several times, and regards Rwanda a success story.
Buffett says Rwanda is an ideal nation, based on its miraculous bounce back after suffering a tragic genocide against Tutsi and quick transformation into a vibrant economy.
Rwanda wants to increase its economic growth by 8.5% next year, up from current 8%, counting significant contribution from Agriculture.
Under the new investment, the foundation will support the country's irrigation project on over 380 square miles of farmland to benefit thousands of local farmers. The rest will be earmarked to establish an agricultural training institute in the country, similar in concept to U.S. universities, which would apply some of the lessons in conservation agriculture learned at the research farm in Arizona and sister projects in Illinois.
In 2007, Rwanda was the first African country to sign comprehensive Africa Agriculture Development Programme - aimed at eliminating hunger and reducing poverty.
The country has also been spending heavily to maintain hundreds of students to Israel and the United States to study modern agriculture.
Agriculture State Minister Tony Nsanganira says the new financing will be a big boost to Rwanda's vision of transforming Agriculture.
According to Rwanda Development Board (RDB), last year's total investments in Agriculture sector were $17.9 million. Agriculture contributes 35% of GDP and employs 80% of Rwanda's population. The sector has attracted about $514 million private investment over the last 10 years.
Yet, "Buffett's investment is the biggest ever into Rwanda's Agriculture sector," Nsanganira told KT Press.
Nsanganira said Rwanda has been seeking means of increasing irrigation by threefold.
He however added that Rwanda still needs billions of dollars to push the sector to a projected level. "We still need as many investors as possible to fill the huge gap in Agriculture sector," Nsanganira told KT Press.
"You can imagine the huge contribution Buffett has made to our plan," he added.
For Media Enquiries:
Dan Ngabonziza
KT Press
+250788668509
SOURCE KT Press