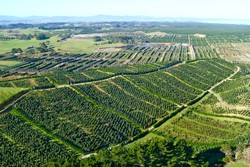 King Avocado is New Zealand's biggest avocado orchard.
FW+ | 5 Februrary 2015
Farming, the best investment
by Hugh Stringleman
Billionaire Englishman Stephen Diggle wants to put his wealth in land assets around the world and has bought New Zealand's largest avocado orchard. The sale of King Avocado was approved last month by the Overseas Investment Office (OIO). Hugh Stringleman reports.
Stephen Diggle wants to buy land, lots of it, in many places around the world.
Diversification in location and types of primary industries would guard against catastrophic risks faced by individual farms, he said.
The successful hedge fund manager wants to move out of equity markets, especially derivatives, to put his roots down.
He founded Vulpes Agricultural Land Investment Company of Singapore, where he lives, and amassed a fortune in the first decade of the century.
The United Kingdom-born, Oxford-educated, trader regarded the global financial crisis as a great wake-up call.
In seeking investors for Vulpes, Diggle spoke in 2012 of the now-failed investment banks that were his early employers as a derivatives trader and the whole house of cards that is central bank economic stimulus known as quantitative easing or money printing.
"Farmland is the ultimate store of value," he said.
Diggle co-founded Artradis hedge fund in 2001 that grew to US$2.5 billion by being "correctly positioned during the collapse of financial markets in 2007-08".
"We made a lot of money for our investors and, by being heavily invested in our own funds, we did pretty well for ourselves.
"Despite being an experienced hedge fund manager, I now believe one of the most compelling trades lies in agriculture."
Diggle denied any expertise in farming, having worked only one summer in the UK during his studies.
"What I learned from that is farming is extremely hard work."
The compelling proposition of farmland ownership, however, lay in the rising world population plus globalisation, which led to higher incomes and improved diets.
He then mentioned the levelling out of crop yields after the Green Revolution, reducing availability of phosphate, increasing weather extremes and the age of western farmers, whose children didn't want to stay on the land.
He concluded that the world population would almost certainly rise to 10-11 billion within a generation, the likelihood of a second Green Revolution was low, many more people would aspire to eat and be able to afford meat and the central banks would keep on printing money.
"It all adds up to rising long-term food prices for the foreseeable future."
Diggle began investing in farms in 2009, firstly 3000ha in Uruguay for cattle, sheep and timber, then 500ha in the United States Mid-West for cropping and a 21.5ha kiwifruit and avocado orchard at Maungatapere in Northland.
He put those farms into Vulpes, of which he was the sole shareholder. It had an asset value of $250 million in 2012.
Vulpes was seeking $150m outside investment, it was reported.
With the new funding, Diggle planned to diversify the portfolio by geography, products, weather and government interference, he said.
He was considering possible investments in Zambia, Malawi and Mozambique in Africa and Ukraine or Bulgaria in Eastern Europe.
The NZ representative for Vulpes is Alistair Nicholson, a Queenstown resident who also has an avocado orchard at Maungatapere.
He said King Avocado was the first of what were expected to be several NZ horticultural investments by VALIC NZ (Vulpes Agricultural Land Investment Company).
Nicholson would not comment on the transaction price, citing commercial sensitivity.
King Avocado has 75,000 trees planted, 55,000 of them the common NZ commercial variety of Hass and 20,000 of the Reed green-skinned variety on 160ha of developing orchard on sandy country north of Awanui.
They were somewhat controversially planted intensively for avocado trees in NZ, on 3m by 5m instead of the usual 7m by 7m.
They would be trimmed progressively to keep them fruiting at an accessible height and prevent them shading each other.
That tree density requires good sprinkler irrigation from the big Aupouri aquifer at 140m down and regular fertigation.
Nicholson said VALIC NZ was committed through the OIO to plant another 20,000 trees on King orchard.
"We have great access to water, a conducive climate and skilled workforce, unique access to Australia and proximity to Asian markets as well as first world legal and financial infrastructure.
"A cohesive vision, long term and patient capital and some aggregation of small or subscale producers should enable us to fully realise our potential."
After talking to him in Singapore, Nicholson also added to Diggle's 2012 investment strategy presentation, saying that Vulpes now targeted higher-yielding orchard assets with some unique factors.
"Since Stephen gave that talk low inflation and quantitative easing have modified the economic climate further.
"We very much like the global supply and demand position for avocados, as consumption is yet low and they are viewed as a nutritionally dense food.
"Demand is growing by 10% annually and supply by 3-5%.
"While the higher NZ dollar value is a challenge, we believe King has the scale and IP to be a good platform for a globally competitive industry."