PCSC| 4 February 2015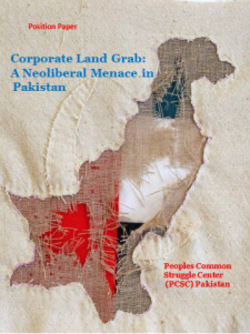 50 percent of the total rural population in Pakistan are landless. Unequal landownership patterns has spread out the miseries of poverty, food insecurity within societies as well family level.
Corporate land grab: a neoliberal menace in Pakistan
The majority of food in developing countries is still produced by small scale farmers, but the global rush for farmland is pushing these farmers onto smaller and smaller plots of land – threatening both rural livelihoods and overall food sovereignty. This paper exposes the situation in Pakistan, where the government has opened the door to a vast corporate takeover of fertile farmland.
For further reading and download the full report
corporate land grab: a neoliberal menace in Pakistan