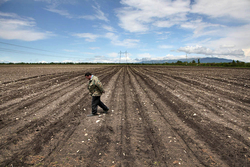 A year after prohibiting foreigners from purchasing lands, Georgian officials have now announced that rights to own agricultural lands might return to foreigners under certain conditions. Above, a farm worker walks across a freshly-planted corn field in the Georgian region of Kakheti in May 2011. (Photo: Justyna Mielnikiewicz)
Georgia Today | 29 January 2015
Foreigners to gain back rights to own Georgian land
by Beqa Kirtava
On June 28, 2013 Georgian parliament passed an attention-worthy law, prohibiting foreigners from purchasing lands throughout the country. Several months prior to the parliamentary vote, Ex-Prime Minister Bidzina Ivanishvili publicly stated that foreigners purchasing Georgian lands "is good" and that "we should consent to this." Despite this statement, the aforementioned legislation passed and later came into force (on July 19 of the same year), resulting in a substantial social dispute which has continued to today. Transparency International Georgia labeled the ban as "a breach of constitution" and claimed it would have "an adverse impact on investment," going on to emphasize the adopted legislative amendments non-compliance with the Georgian Constitution. "We welcome the development of a uniform state policy on the ownership of agricultural land and the organization of an integrated system of the land cadaster and agronomics. However, this process should not damage the country's economic interests. Attracting investors must be of top priority for the government in the growing economic conditions. That aside, a vast portion of Georgian land is still uncultivated, and thus the introduction of limitations for investors in such conditions is nothing but unreasonable." – read the public statement issued by the NGO. With both praise and severe criticism surrounding the legislation, this ban on land acquisition certainly became one of the most controversial laws of the recent past.
It should also be noted that similar changes were made to the same law in 2012, which also prohibited foreigners from purchasing Georgian land plots, with the exception of foreign commercial banks (property ownership could, however, be granted in "special" cases, with prior approval from the government.) Yet the moratorium was declared unconstitutional by the Georgian Constitutional Court on June 26, 2012 and the corresponding article of the legislation was repealed.
More than a year after the second wave of changes, Georgian officials have now announced that rights to own agricultural lands might return to foreigners under certain conditions. The ministries of Justice and Economy have already initiated several changes to the legislation, which will soon be submitted to the Parliament of Georgia for discussion. If the aforementioned proposition is accepted, foreigners will be able to hold agricultural land, provided that it is either inherited or the owner is a member of a farm collective created by local citizens. Any foreigner who is married to a person of Georgian nationality will also benefit from the same rights. However, in case of divorce or a withdrawal from the farming collective, the chances of the individual keeping the land plot will entirely depend on whether they meet the requirements set by the law for agricultural land ownership for foreigners. Unless the conditions of property ownership rights are met, the person will be obliged to sell the land within six months.