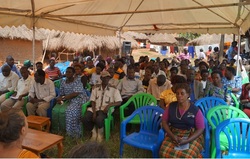 Photo: Carsten Pederson.
FIAN | 22 January 2015
Multi-country seminar discusses land and ocean grabbing issues in Africa
FIAN International coordinates a project of investigation seeking to enhance bottom-up accountability in large-scale land acquisitions (LSLAs) in Sub-Suharan Africa
From 12-16 January 2015, FIAN International took part of the launch meeting in Kampala (Uganda) of a multi-country research project of investigation supported by the International Development Research Centre (IDRC) in Canada, which focuses on bottom-up accountability in large-scale land acquisitions in Sub-Saharan Africa.
The event brought together top researchers from eight organizations from across Europe and Africa fighting against land and ocean grabbing in this continent.
Among these were: International Institute of Social Studies (ISS) and Institute for Poverty, Land and Agrarian Studies (PLAAS); human rights organizations such as FIAN International; environmental organizations like Environmental Rights Action (Friends of the Earth-Nigeria, ERA); scholar activists (Transnational Institute, TNI); and avant-garde social movements working on land and ocean grabbing issues, including Masifundise Development Trust, La Coordination Nationale des Organisations Paysannes du Mali (CNOP) and La Convergence malienne contre l'accaparement des terres (CMAT).
As part of the seminar, participants visited the local fishing communities residing around Lake Victoria in Mukono District and exchanged ideas on multiple cases of on-going human rights violations in the process of LSLAs and cage fishing in Africa.
These communities decried arbitrary practices of some international investors in the fishing industry, which are undermining people's right to their ancestral fishing waters. The dynamics of these forms of resources grabs has serious implications on the resource rights and livelihoods of poor communities.
The multi-country research project aims to use action research together with international soft laws like the FAO Guidelines on the Responsible Governance of Tenure and the International Guidelines for Securing Sustainable Small-scale Fisheries to strengthen the capacities of local communities affected by LSLAs and demand for accountability in natural resource governance.