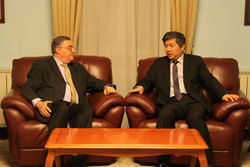 Ambassador to Georgia Yue Bin meeting with Georgian Ambassador-Designate to China Davit Aptsiauri, December 4, 2013.
The Messenger | 23 January 2015
Chinese ambassador briefed about investment prospects in agriculture
Georgia's agriculture minister on Wednesday met with the Chinese ambassador to discuss bilateral relations and the mostly positive dynamic in trade relations.
Ambassador Yue Bin said that the year 2014 was the most successful, fruitful and positive year in China-Georgia relations for the last decade. He said trade turnover has significantly increased, while there is increasing interest among business circles in China towards agriculture products produced in Georgia.
Agriculture Minister Otar Danelia outlined the current investment climate in Georgia and additional export opportunities which Georgia acquires after signing a new free trade treaty with the EU. He said Georgia is prepared to support the implementation of Chinese investments in Georgian agriculture.
The ambassador and the minister discussed prospects for development of tea plantations in western Georgia, aquaculture production and organizing greenhouses.
Georgia's trade turnover with China, which is in fourth place among the country's top trade partners, was more than USD 823 million in 2014, which is 7.2 percent of the whole foreign trade turnover.
According to Georgia's National Statistics Department, export to China in 2014 was more than USD 90 million, which is 3.2 percent of the whole export, while it was USD 33.8 million in 2013; 1.2 percent of the whole export last year.
Import from China in 2014 was USD 732 million, 8.5 percent of the whole import. In 2013, Georgia imported goods worth USD 611 million from China; 7.6 percent of the whole import. China is the second most important country for Georgia in terms of import, after Turkey. (DF watch)