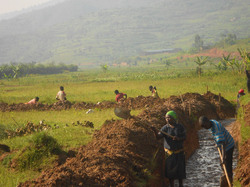 New Times | 22 Janaury 2015
Rwanda: Canadian firm acquires licence, to grow stevia plant on 1,000 hectares
By Emmanuel Ntirenganya
The Ministry of Trade and Industry (Minicom) has signed an agreement with SteviaLife, a Canadian firm, that will see the latter promote the production and export of stevia plant.
Stevia is a sweetener that comes from a plant and has no calories.
During the signing ceremony, yesterday, officials said at least 25,000 people will be employed on every 100 hectares of stevia plantation.
The MoU aims at promoting the new crop in the country and add value to it mainly to boost the country's export base.
Trade and Industry minister François Kanimba said: "This plant is unique and has natural sugar that has no side effects on the body, like those caused by normal sugar, including diabetes. Major beverages and foods factories in the world are scrambling for stevia because of its health benefits."
He cited the Coca Cola Company, which has started using stevia to produce Coca Cola Life.
The minister said the cultivation of the perennial plant, which is harvested every three months, will boost the country's agenda of creating 20,000 jobs, especially for the youth.
He said the plant is promising and people have started to understand the benefits accrued from it because the revenue they get per hectare of land cultivated exceed those from other crops.
"We agreed to help the investor get the land, be it government land or helping them work with farmers to get the 1,000 hectares needed," Kanimba said.
The investor intends to set up a processing plant in the country.
Exporting the dry leaves, according to the investor's projections, will fetch $14 million annually and after the plant is set up, they will be exporting stevia crude extra, which they say will rake in $140 million per year.
Stevia farmers will be given between Rwf550 and Rwf700 per kilogramme.
Stevia can produce between six and eight tonnes per hectare per year and is harvested up to five years before they can be replaced.
Dorian Banks, founder and chief executive of SteviaLife, said the extract plant will be worth $2-3 million and will be set up in mid-2016 after amassing the needed land.
"We plan to build a $10 million plant to process refined stevia in 2018, if we get between 2,000 to 5,000 hectares of Stevia plantation in the country," he said.
Stevia, which was piloted in Rulindo District in 2011, will be planted in districts like Bugesera, Kirehe, Gasabo, Nyaruguru and Rwamagana.
Banks said he chose to invest in Rwanda because of the conducive environment.
Amb. George William Kayonga, the chief executive of the National Agriculture Exports Development Board, said over the next three years, government would support the investor to acquire nucleus farms of 400 hectares and around the nucleus farm be able to reach out to out-growers.
[email protected]