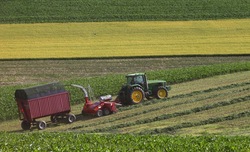 Agri-View | 22 January 2014
US: Fight foreign ownership of Wisconsin farmland (Part 2)
(Part 1 is
here
)
The foreign-ownership debate is relatively recent and, as noted below, it is not at all clear who is seeking to repeal the existing legal restrictions on the foreign ownership of Wisconsin farmland. Little attention was paid to the law over the past several decades and I recall few contacts about the law during my service as state Trade & Consumer Protection administrator. That all changed in February 2013 when Gov. Scott Walker included language in his proposed 2013-2015 budget that would repeal Wisconsin's current restrictions on the foreign ownership of Wisconsin farmland. The Wisconsin agricultural community quickly united in opposition to the proposal, including Cooperative Network, the Wisconsin Farm Bureau Federation and Wisconsin Farmers' Union among others. Our principal objection was that a legislative initiative of this importance should be introduced in a separate bill, with legislative-bill authors, and be given a public hearing where supporters can argue why this law should be repealed and opponents can argue why the law is needed and should be kept in place. In addition, we argued Gov. Walker's proposal was not really a budget issue, but rather was a policy issue that should not be included in the state budget.
Fortunately, the Legislative Joint Finance Committee made up of 12 Republicans and four Democrats from the State Senate and State Assembly agreed that Gov. Walker's proposal was a policy issue that should be dropped from the state budget. In addition, Sen. Alberta Darling, the committee's co-chair, publicly noted it was unclear to her who wanted to repeal this law. This rejection followed an effort led by Wisconsin Rep. Lee Nerison, the chair of the Assembly Agriculture Committee, to voice Republican opposition to the proposal to legislative leaders. Then Democratic Wisconsin Rep. Amy Sue Vruwink led a similar effort among Democrats.
However, the issue did not stop there. Republican Assembly Speaker Robin Vos on Jan. 16, 2014, requested Wisconsin Attorney General J.B. Van Hollen determine if Wisconsin's restriction on the foreign ownership of farmland was essentially repealed by the international General Agreement on Trade in Services Treaty and also because Wisconsin was not included in a list of states that were to be exempted from the treaty. Vos' request made clear his belief that the treaty trumped state law and that Wisconsin could not prevent the foreign purchase of more than 640 acres of land.
Congressional Research Service weighs in on the Wisconsin law
At Cooperative Network's request, U.S. Sen. Tammy Baldwin sent a request to the Congressional Research Service asking whether the treaty essentially repealed Wisconsin's foreign ownership restrictions. The service is the non-partisan research arm of Congress. In a final opinion released in early December of last year, an expert international trade attorney with the service determined that Wisconsin's foreign ownership restrictions remain in force despite enactment of the treaty and noted that to the extent an international treaty provides rights to the foreign ownership of Wisconsin land, Wisconsin law already contains such an exemption. In addition, the attorney noted it did not legally matter that Wisconsin, or the state of Minnesota, was not included in the list of exceptions.
Cooperative leaders express opposition
More than 250 cooperative leaders from across Wisconsin and Minnesota met in November in La Crosse to consider policy resolutions, including one addressing the foreign ownership of land. The members unanimously adopted a resolution that reads in part:
"Cooperative Network supports the existing alien land ownership prohibitions in Wisconsin and Minnesota laws and believes that repealing the existing laws would: (1) cause significant land speculation; (2) make it more difficult for state agricultural producers to purchase farm land due to substantially increased competition from foreign buyers, including sovereign foreign government funds; (3) potentially remove farm land from circulation (because) the evidence demonstrates foreign-owned land does not usually transfer after the initial sale; and (4) decrease the market for fuel, grain and farm supply cooperatives because the evidence demonstrates the foreign buyers often bring in their own agricultural inputs and workers and do not use local resources for the processing and export of agricultural products. For these reasons, Cooperative Network will continue to work with legislators of both parties to maintain support for these laws."
Foreign farmland-ownership restrictions remain
Wisconsin Attorney General J.B. Van Hollen on Dec. 19, 2014, issued the requested legal opinion to Assembly Speaker Robin Vos and determined that while the treaty allows for foreign purchase of more than 640 acres of land for a service-based purpose, state law still effectively prohibits the foreign purchase of more than 640 acres of agricultural or forestry land.
Despite the favorable opinion, Wisconsin's cooperative and agricultural communities were still concerned Gov. Walker might attempt to include a repeal provision in the 2015-2017 state budget. Because of this, my staff and I met with Gov. Walker's aides in December to make clear our continuing strong opposition to such a proposal. We were told at that time that a repeal provision would likely not be included because of the strong opposition that repeal would face in rural Wisconsin. We will know if this remains the case in a few short weeks.
Bill Oemichen is the president and CEO of Cooperative Network, a trade association of more than 400 Wisconsin and Minnesota cooperative businesses, and served as Wisconsin's former chief Consumer Protection Official and as Deputy Minnesota Agriculture Commissioner.