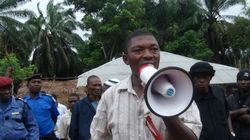 The New Citizen | 20 January 2015
That boiling tension in Sahn-Malen
It is understandable that a country picking itself from the ashes of a debilitating war can be so vulnerable in the hands of multilateral companies. It is also understandable that a people starved of employment opportunities can be so mad at accepting whatever a company can offer them and in some instances totally forgetting about their human rights.
Should we say because of these absurdities our people should suffer from all sorts of inhuman treatment? The answer is a big no, because the indigenes of any country or community where a company operates deserve a better treatment. The people deserve basic social facilities such as good roads, safe drinking water, better health facilities and more. But if on the other hand these facilities are not provided, such will result to resentments that will eventually leading to uprisings.
Government should create an enabling environment where the people can feel protected from these multi-lateral companies.
We all are aware how most of these companies who come in the guise of investing can manipulate the minds of the people; and for a people grappling with the issues of poverty, these exploitative tendencies are always there.
When they see company officials driving in air conditioned vehicles on dusty roads, some poor people think these officials are responsible for their poverty. They may probably hate them and if their sons and daughters are not in the top management positions, resentment builds.
Such has brought to mind the boiling tensions between the all-powerful SOCFIN Agricultural Company in the Sahn- Malen chiefdom in the Pujehun District and the indigenes.
Tensions keep mounting, yet the problem remains unsolved even when it has led to the detention of a former law maker. We all are left to wonder why the police should not be in a better stead to quell down tensions and arrest the culprits.
We all expect them to play a neutral role as it is expected of it and tell us what may have led to such an ugly situation.
While it is too premature to draw conclusions just yet, we hope justice would be dispensed equally.
Some of these issues may not be unconnected to the fact that most of those who claimed to support the views of the down-trodden have turned out to be the oppressors as all what they are concerned with is satisfying their selfish ends even if it cost them to mortgage the aspirations of their subjects.
To the surprise of most people, representatives in this region have not been serving their people well; otherwise, they should never have allowed tensions to mount between the people and the companies. They should be in a position to explain to the people the contractual agreement of some of these companies so that the doubting Thomases would see the light.
The people should know the limit of companies and companies themselves should be sensitive to their corporate social responsibilities. There should always be a room for addressing grievances to avert unrests and confrontations.
Some of these corporate social responsibilities should be in the form of providing scholarships for students because indigenes would be satisfied with a company whose Administrators are sons and daughters of the soil. This can build harmony and trust between workers and indigenes because it has been proven over the years that the bedrock of any development lies in the hands of the indigenes themselves.