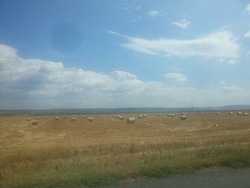 Romania Insider | 19 January 2014
Former Swiss banker sells 600 ha of land in Romania
by Irina Popescu
A former Swiss banker, now turned farming investor in Romania, has sold 601 hectares of land in Timis county, making a 50% profit.
Agrar Invest Romania
AG, led by Theo Hani, a former Swiss banker who worked 22 years for Credit Suisse, sold a subsidiary that owned 601 hectares of agricultural land in Timis county, the company announced, without disclosing the value of the transaction. The company purchased the land in 2012.
"Agrar Invest Romania AG took advantage of the favourable trend of agricultural land prices in Romania and sold Zarand Estate and the 601 hectares of land at a profit, at the end of 2014. […] The selling price per hectare is 50% higher than the balance sheet value," reads a company statement, cited by local Economica.net.
Irina Popescu,
[email protected]