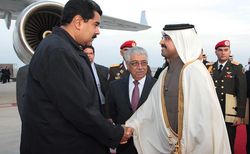 Venezuelan President Nicolas Maduro, left, with Qatar's Minister of Energy and Industry, Mohammed bin Saleh Al Sada. (Photo: QNA)
AVN | 14 January 2014
Venezuela announced partnership with Qatar for agricultural development
Caracas, 12 Ene. AVN.- Venezuelan President Nicolas Maduro today announced the creation of an alliance with Qatar to boost a special project for agricultural production development of both nations.
Speaking by telephone with Telesur network, after meeting with the emir of Qatar, Tamim bin Hamad Al Thani, at Doha's government palace, the Venezuelan president explained: "We have strengthened ties of cooperation which will open up the way for economic, investment, tourism and cultural exchange. Qatar has a special fund to invest in food production. So we will jointly develop the productive forces and the transfer of technology to produce food for the Venezuelan market."
He added that "Commander Chavez had already proposed this productive agricultural development to the emir (Tamim bin Hamad Al Thani), years ago."
"As you know, these countries are in the desert, so they import many foods. We will develop the agricultural sector, production of Venezuelan quality. The emir will appoint in the coming days a commission to bring the project to fruition," he said.
Maduro said "we are building a route of export with quality products to this region. They are very interested in this."
He also announced the opening of direct flights from Venezuela to Doha, capital of Qatar, to extend the tourist flow between the two nations: "The Doha-Caracas flight will open roads for economic, tourism and cultural exchange between our nations."
The Venezuelan leader arrived Sunday at Doha International Airport as part of his working trip to nations of the Organization of Petroleum Exporting Countries (OPEC) to promote joint actions to strengthen this bloc and restore balance in the oil market.
President Maduro came to this country from Saudi Arabia, where he held meetings with Prince Muqrin Bin Abdulaziz, vice heir to the throne of the Kingdom of Saudi Arabia; with Saudi Minister of Petroleum Affairs, Ali Al-Naiml, and with Prince Turki Bin Abdullah, Governor of Riyadh, capital of the kingdom