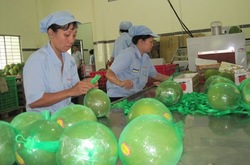 VietNamNet Bridge | 13 Janaury 2015
Foreign businesses control of farm produce exports questioned
by Thanh Mai
A General Department of Customs' report showed that farm exports from foreign-invested enterprises have been increasing steadily year by year.
At least one kind of food sourced from Vietnam, either rice, seafood, or pepper and cashew nuts, is used in nearly every country.
The products, until now, have been mostly exported by Vietnamese companies. But experts believe that foreign businesses will begin to lead the export of the products.
According to the Vietnam Cocoa and Coffee Association (Vicofa), 50 percent of the 30 biggest coffee exporters in 2013-2014 were foreign invested enterprises (FIEs).
In the past, FIEs accounted for 30 percent of the top 20 exporters.
According to GDC, in the first 10 months of the year, FIEs exported $108 million worth of vegetables and fruits, an increase of $17 million over the same period last year.
Meanwhile, the coffee export value was $1.23 billion, or $717 million higher than the same period last year, and the pepper export value was $326 million.
A coordinator of the 3EM project funded by IFAD (The International Fund for Agricultural Development) noted that effective cooperation with Vietnamese farmers has helped FIEs boost farm exports.
A Japanese business provides sweet potato seeds and teaches cultivation techniques to farmers, then commits to buy all the produce from farmers to export to Japan.
The businesses from Taiwan, South Korea and Japan are the biggest foreign investors in agriculture. Most of them invest in growing tea, vegetables and fruits in the Central Highlands and Mekong River Delta.
According to Vinafruit (the Vietnam fruit and vegetable association), after the initial investment period, FIE exports increase steadily because they have stable markets. What foreign investors seek in Vietnam are fertile soil, favorable climate and cheap labor force.
Vinafruit also commented that FIEs have been successful partly because of preferential treatment by local authorities. While Vietnamese investors always have to wait long time to get land allocated, FIEs do not have to spend much time on administrative procedures.
According to Van Hoang, director of a fruit and vegetable export company in the Mekong River Delta, Can Tho City authorities have recently proposed to the government to approve a special mechanism for a South Korean technology incubator, which aims to attract South Korean investors. Agricultural production is the city's great advantage.
However, analysts pointed out that the FIEs' export growth has not brought major benefits to the localities that created favorable conditions for them to develop their projects.
The FIEs in Lam Dong province, for example, have all reported losses and therefore don't have to pay tax.