The Australian| 10 January 2015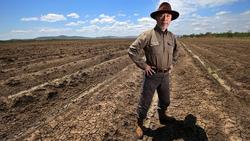 China's appetite for Ord food bowl investment an acquired taste
by Andrew Burrell
THREE years ago, Jian Zhong Yin was working for a Chinese property company developing ritzy projects along the famous Bund waterfront area of his native Shanghai, a metropolis of more than 20 million people.
Today he calls himself a local of Kununurra (population 7000) in the remote Kimberley, as he oversees China's biggest potential ­investment in Australian agriculture: a $1 billion high-risk foray in the fabled Ord River irrigation scheme.
Mr Yin, the karaoke-loving head of Kimberley Agricultural Investments, is the new face of Chinese investment in Australia. He will play a key role in determining the fate of the decades-long struggle to turn the fertile soils of northern Australia into a giant food bowl.
Owned by China's private Shanghai Zhongfu group, KAI is poised to begin growing crops outside Kununurra within a few months — starting with chia and sorghum — as part of its ultimate, yet uncertain, goal of developing a large-scale sugar industry in the fertile region.
Despite speaking little English, the gregarious Mr Yin appears to have adapted easily to life in the outback since moving to Kununurra in 2013, after the West Australian government announced KAI as the successful proponent to transform 13,400ha of Ord scrub into irrigated farmland.
Squinting into the distance at some of the 5000ha of bush ­already cleared by his local workforce, Mr Yin, 55, marvels at the vast open spaces of the Kimberley.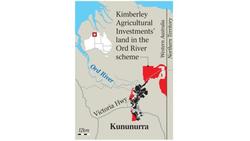 "Here in Western Australia you have more arable land than in the whole of China," he says.
Mr Yin says he now regards Kununurra as his home and is planning to stay for years. Last winter, he spent weekends mingling in the crowd watching the Ord River Magpies — a team brimming with indigenous talent — compete in the East Kimberley Football League. He is a regular at Kununurra community events and even acted as the photo­grapher at an Aboriginal wedding.
KAI has also bought a local hotel with the aim of improving its facilities and attracting more Chinese tourists to the town. "They ­already see me as a local; we are not seen as foreign investors," Mr Yin tells
The Weekend Australian
through an interpreter at his office just outside Kununurra.
"I'm very happy here because it's much quieter in Kununurra than in Shanghai. And the people are friendly, kind and honest."
Mr Yin and KAI, however, face a monumental challenge to ­develop a full-scale sugar industry in the north. The company needs access to even more land — most of which is across the border in the Northern Territory — to underpin construction of a $400 million sugar mill in the Kimberley.
Fifty years after Robert Menzies labelled Kununurra "the most exciting place in Australia", the ­reality of the Ord River irrigation scheme — fed by the massive freshwater reserves of nearby Lake Argyle — has never matched the hype. The Koreans couldn't make sugar work: a subsidiary of Samsung was forced to close the sugar mill in 2007 because it was unprofitable. Rice failed in 2011 after crops were destroyed by a rare fungus. The cotton industry collapsed in the 1970s due to pests. More recently, cotton was tried again but was destroyed by the ­region's heavy monsoon rains.
The remoteness of the Kimberley also makes it expensive for new investments in large-scale agriculture to succeed.
In November, ANZ Bank released a year-long study that cast serious doubt on the viability of Ord-like irrigated cropping projects across the north.
ANZ chief economist Warren Hogan said he had been surprised at just how unprofitable the report found it would be to invest in new irrigated cropping projects in northern Australia based on current commodity prices, despite talk of the Asian "dining boom".
Even KAI's early plans appear to have been downgraded from the Barnett government's original announcement in 2012, which declared rather bullishly that the Chinese company would "develop a sugar industry in the Ord".
Then regional development minister Brendon Grylls said at the time he believed KAI would be able to build a sugar mill with the 13,400ha of land the government had released. But KAI general manager Jim Engelke says the company could take another decade to decide whether it will be able to grow sugar.
He says a sugar mill will need a guaranteed annual supply of two million to three million tonnes of sugar cane to be viable, which ­requires between 20,000ha and 30,000ha of land to be cropped.
To achieve this, KAI needs the Northern Territory government to release land on its side of the Ord River expansion project but this has been heavily delayed by environmental approvals and stalled negotiations with traditional owners.
In the meantime, KAI is planning to use the land it has cleared in Western Australia to grow sweet sorghum that can be exported to China for use in baiju liquor. Other crops — including chia, quinoa and some fruits — will also be considered as part of the initial crops to be planted this year.
Mr Yin insists KAI can succeed where other have failed. The state and federal governments are hoping he is right, having injected a combined $500m into developing infrastructure to support the Ord expansion.
Another potential setback to KAI's plans came when sugar was excluded from the recent Australia-China free-trade agreement, a move that dashed the industry's hopes of capitalising on the fast-growing Chinese market.
"The FTA will be good for our future development but we won't benefit immediately," Mr Yin says. "It is good for the people of both countries."
The Barnett government's decision two years ago to award the Ord land to Shanghai Zhongfu, in preference to local companies, sparked something of a nationalistic revolt. Barnaby Joyce, before he became federal Agriculture Minister, appealed to Western Australia to reconsider the deal and questioned whether it was in the national interest. Others queried how a company with experience in property development in China could be qualified to run a huge rural project in Australia.
Mr Yin says Shanghai Zhongfu had been expanding in China for more than 20 years but its owner, Wu Pui Ngai, realised he needed to find growth in other sectors and other countries. "If you stick to property developments and commercial business in the city you will not have further growth," Mr Yin says. "We wanted to do something so we looked at different countries. Five years ago we decided Australia was the way to go. Australia and China are very complementary countries, Australia has a very stable legal system and the relationship between Australia and China is very good."
Mr Yin says Mr Wu went looking for major investments in Melbourne, Sydney and Queensland before he started investigating ­opportunities in the resources ­industry in Western Australia.
But he jumped at the chance to develop land in the Ord because of the potential growth in agriculture across the world, including in China where diets are rapidly becoming more sophisticated.
"In the last 20 years the global population has been growing but the amount of arable land is ­decreasing," he says. "We see a growing demand for food."