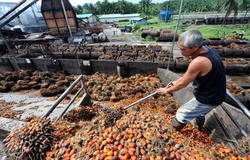 The Philippine Palm Oil Development Council says investors from Thailand, Malaysia and Papua New Guinea are seeking lands for oil palm plantations in Mindanao (Photo: Getty Images)
Davao Today | 8 January 2015
Mindanao eyed in 300,000-hectare oil palm expansion
By TYRONE A. VELEZ
DAVAO CITY – The Philippine Palm Oil Development Council wants government to support its road map of developing 300,000 hectares for oil palm in the next ten years with Mindanao as a main investment area.
The council said this move will benefit farmers as it cited two Southeast Asian countries that improved their poverty situation by prioritizing palm oil production.
This plan was revealed by Peter Lavina, former city councilor and member of the PPODC, during a recentKapehan sa SM press conference.
Lavina said the council has pushed for palm oil production to curb Philippine import of billions of pesos worth of this commodity, a huge amount he believes should have benefited the local farmers had they venture into such product.
"In 2013, we estimated our country imported P35 billion worth of palm oil. If we continue to do so, we'll be depriving local farmers of income," said Lavina.
He said 90 percent of Filipino households are now using palm oil in cooking, which contributes to the high demand of this product.
Lavina said Indonesia and Malaysia have been the sources of palm oil after converting massive land areas for this production, with Indonesia having 10 million hectares of oil palm, and Malaysia with six million hectares.
The Department of Agriculture (DA) said Indonesia earns US$50 billion annually from palm oil.
"Our two neighbors acknowledge palm oil production is key to eradicate poverty. We want to promote the planting of oil palm here," said Lavina.
Compared to these two countries, the expansion of 300,000 hectares in Mindanao is "a modest proposal", he said.
The council had completed its industry road map and said the country has the potential to convert more agricultural areas to oil palm.
"We have good rainfall, climate conditions and labor," he said.
The road map showed that Mindanao has 55,000 hectares of oil palm but there is potential for expansion, as the DA said there are one million hectares of idle land in the area.
Lavina further said Mindanao has already been eyed by Asian investors for the industry. He cited that Malaysia has targetted plantation sites in Paquibato District of Davao City and in Davao Oriental with a tie-up with businessman Manny Pangilinan.
Thailand
is also investing North Cotabato and
Papua New Guinea
in Agusan del Sur.
Lavina also cited the Moro Islamic Liberation Front has showcased a 200,000-hectare oil palm plantation in their base in Central Mindanao during a recent Asian convention.
But Lavina said the challenges in going into this investment is acquiring lands in which investors "have to deal with agencies such as the Department of Agrarian Reform and the National Commission on Indigenous Peoples".
He also added that government must support farmers through subsidies and loans.
Other groups however cautioned farmers and the public not to jump immediately into oil palm investments.
The economic think-tank IBON Foundation said the expansion of oil palm in Malaysia and Indonesia has led to the destruction of their rainforests and affected their ecosystems and food security.
The farmers group Kilusang Magbubukid ng Pilipinas cautioned that only companies will reap from profits and will cause shortage in food supply for the region. (davaotoday.com)