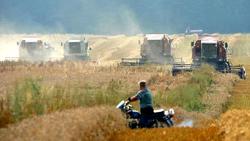 BelTA | 17 December 2014
UAE invited to invest in Belarusian agricultural companies
MINSK, 17 December (BelTA) – The Agriculture and Food Ministry of Belarus has suggested that the United Arab Emirates consider investing in 16 agricultural companies in Belarus, head of the main foreign economic department of the Agriculture and Food Ministry Alexei Bogdanov said at the talks with the UAE delegation led by Minister of Education of the United Arab Emirates, Chairman of Emirates Advanced Investments Group His Excellency Hussain Al Hammadi, BelTA has learned.
"The Emirati side is ready to invest in agriculture in Belarus. Today we have provided them with information on 16 agricultural companies where they can invest," Alexei Bogdanov said.
The Agriculture and Food Ministry will prepare exhaustive information on each of these 16 companies located all over the country. After that, experts from the UAE will come to Belarus to inspect these enterprises.
The UAE delegation showed great interest in the Belarusian meat and dairy industry. "We have discussed the development of sheep breeding in Belarus. Top on the agenda was the purchase of land to produce grain crops in Belarus for their subsequent export to the United Arab Emirates," Alexei Bogdanov said.
His Excellency Hussain Al Hammadi noted that the Emirati delegation is returning the visit that Belarusian President Alexander Lukashenko paid to the UAE in October 2014. "Back then Belarus and the UAE discussed ways to ramp up cooperation. It is premature to talks about specific projects now. We have come here to study cooperation opportunities and we are convinced that the Belarusian-Emirati cooperation will be a success," the minister said.
Alexei Bogdanov noted that it is time to determine the most promising areas of the bilateral cooperation and outline a roadmap of joint efforts.