Guardian| 10 December 2014
European Union agrees to investigate Cambodian sugar industry
by Kate Hodal in Phnom Penh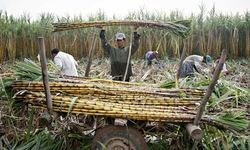 The European Union has agreed to investigate forced displacement claims in relation to Cambodia's troubled sugar industry. The move could see thousands of villagers compensated for illegally confiscated land and loss of earnings.
The Clean Sugar Campaign – which has been calling on the EU to investigate its trade ties with Cambodia's sugar industry since 2011 – called the development "a pivotal step towards justice for thousands of Cambodian people who have suffered enormously at the hands of the sugar industry".
The joint EU-Cambodia scheme has already been approved by the Cambodian government and is intended to "ensure redress" and restore "pre-project living standards and income levels" for those affected, campaigners said.
The EU confirmed the scheme in a statement seen by the Phnom Penh Post, in which it said the aim was to "fund technical expertise to develop a mechanism to audit claims in relation to sugarcane plantations in Cambodia, and ensure the implementation of any remedial measures that are found necessary".
Cambodia's booming sugarcane industry – which benefits from a preferential EU trade scheme called the Everything But Arms treaty – is rife with allegations of human rights abuses, among them illegal land grabs, forced displacement and child labour. Human rights groups claim that at least two villages in three provinces were entirely destroyed and thousands of hectares of rice plantations and orchards confiscated to make way for sugar plantations, leaving up to 2,500 families without homes, land or food.
A Guardian report last year into the Thai-owned KSL plantation – which exported sugar to the EU for the sugar multinational Tate & Lyle – investigated allegations of child labour and other abuses. Villagers also described being subjected to physical violence, having their homes and property destroyed, their land confiscated without their consent; they also claimed one person had been killed while land was being forcibly cleared.
Some 200 Cambodian families are currently involved in a lawsuit against Tate & Lyle, claiming the company knew, or should have known, of the allegations against KSL, and allege the sugar company should compensate them for the value of the sugar grown on the land they say still belongs to them.
Following the Guardian investigation into alleged abuses, the drinks corporations Coca-Cola and Pepsico agreed to a "zero-tolerance policy" regarding land grabbing in their supply chain, while the ethical sugar coalition Bonsucro suspended Tate & Lyle for failing to respond to allegations of abuse related to KSL dealings. The sugar company later resigned from Bonsucro in June this year.