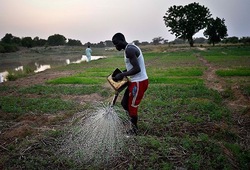 World Bulletin | 10 December 2014
Foreign companies buying Africa's fertile land
According to an ORDAF (The Association of Researchers in Middle East and Africa), political events and terror news are deliberately kept in the headlines to hide African land grabs by Western countries.
According to the
ORDAF
report, terrorist and policital events that are at the forefront of African nations while millions of hectares of land are in the hands of foreign governments.
More than 60 million hectares of land that belongs to 80% of Africa are quietly being exchanged hands through sales and rentals under the smokescene of political instability and terror crises.
According to the report, in recent years powerful nations' have kept Africa in the headlines with the incidences of Al-Shabaab, Boko Haram and Al-Qaeda, hiding behind these events while trading in international deals. Going back to the 19th century, fertile lands was taken away from the indigenous people of Africa and given to poor white farmers and that today modern methods are now being applied on those lands.
In particular this exchange of lands between Europe, the US and Asia have been far more widespread in the last 15 years. These mostly have been covered up by keeping the issues of the Christian Sudanese, the activities of Al-Qaeda's Maghreb activites, the Libyan-Egyptian political crisis and the As-Shabab in Somalia in the headlines, distracting from the secret deals and negotiations. As a result, by keeping these news at the front and hiding behind these news, it has been hoped that the purchase of the lands will be completed as soon as possible.
In the report, very little countries with the exception of North African Saharan countries of Egypt, Libya, Tunisia, Algeria and Morocco but not including Mauritania were the few countries that did not rent out land over 10,000 hectares. The report says, "In some countries, the sales were so high, that there were now groups of observers researching the movement of land sales. At the top of the list was Ethiopia, Sudan, Congo, Cameroon, Guinea, Zambia, Kenya, Tanzania and Mozambique were being watched carefully.
What was even more striking was that with lands exchanging ownership, Western countries imposed that the land that uses traditional agricultural methods by the local people must be removed from all state authority.
It was also stated in the report that in recent years China had usage rights of billions of hectares of African land. Whether through rental or sales, China has - irrespective of the price it had to pay – with land in its hand has strongly increased its opposition. China had expressed interest in Ethiopia, Congo, Zimbabwe and Cameroon which had closed off the land.