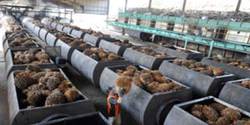 Reuters | 9 December 2014
Cargill may invest $1b in Indonesia over 3 to 4 years with poultry focus
Cargill Inc may invest $1 billion in Indonesia over the next three to four years, with a focus on entering the poultry sector and expanding its palm business in the Southeast Asian country, the CEO of the top global commodities trader said on Tuesday.
Earlier this year, Indonesia entered talks to resume poultry shipments to Japan after a 10-year stoppage, with any agreement likely to be worth an estimated initial $200 million per year.
These government discussions followed soon after a food safety scandal involving Chinese meat suppliers.
Cargill, which already has a presence in Indonesian palm oil, cocoa and animal feed sectors, sees great potential in the country's poultry industry.
"Japan is looking closely at Indonesian chicken and part of it is to replace volume that has fallen off from China through various industry issues that China has had," Cargill CEO David MacLennan told reporters during a round table discussion.
Poultry demand in Indonesia, the world's fourth most populous nation, is also growing due to more affluent Indonesians turning away from rice, once the staple diet, toward more bread and meat-based foods.
MacLennan, who met with the new Indonesian President Joko Widodo and other senior government officials on Monday, said part of the future investment in Indonesia would be aimed at expanding Cargill's palm business.
The firm owns palm oil plantations covering about 40,000 hectares in Indonesia, the top producer of the edible oil.
Cargill has already invested about $700 million in the country over the past four years, the chief executive said.
He was speaking to reporters ahead of the official opening of Cargill's cocoa processing plant in Java later this week.