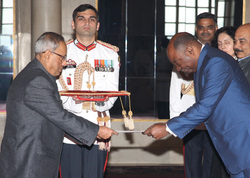 The Ambassador-Designate of Republic of Congo, Mr. Felix Ngoma, presenting his credentials to the Indian President, Shri Pranab Mukherjee, at Rashtrapati Bhavan, in New Delhi on November 08, 2012. (Photo: PIB)
Business Standard | 25 November 2014
Congo invites Indian farmers to explore farming opportunities
Chandigarh - Republic of Congo today invited Indian farmers and food processing sector to explore business opportunities there, saying it is ready to offer all "possible support" in this regard.
"Nearly 90 per cent of the 10 million hectares of arable land in Congo is unused, which Indian farmers and food processing industry can really benefit from, and hence India can well be the world food basket in addition to meeting its own domestic demands", Felix Ngoma, Ambassador (Extraordinary and Plenipotentiary), Embassy of Republic of Congo said here today.
Inviting Indian farming community and food processing industry as well to explore agriculture and related business opportunities, Ngoma said, "we are ready to offer all possible support to India."
Farming is not amongst the favourite occupations there, hence it is an excellent opportunity for Indian hardworking farmers and in turn agri-based industry to earn huge profits from the same, he said while addressing a conference here.
"It is however highly imperative for India to invest in research and development, focus on new technologies and latest seeds, ensure better infrastructure, warehousing and transportation facilities to achieve desired levels of productivity", he said.
Talking about the emerging business association between Netherlands and India, Cees Bansema, Deputy Head of Mission, Embassy of the Netherlands in India said, "Though India has immense potential, but it needs to enhance its product quality portfolio to get an entry into European markets."
India can only make a mark for itself in the international market by ironing out bottlenecks in supply chain and logistics management which currently hampers the progress of the agro and agro processing sector, Bansema said.
"Netherlands sees a great opportunity in India because of sustainable consumer growth. We are the fifth largest foreign investor in India. There are almost 50 Netherland based companies which have invested in agriculture sector in India," he added.
Echoing the new-found friendship between India and Japan, Tomoyuki Kuwaharada, First Secretary - Economic Section, Embassy of Japan said, "Japan is keen to invest in India, especially in the Eastern Coast which has limited cropping avenues."
Kuwaharada also suggested a future vision for Indian business to focus upon specific markets before diversifying into an international sphere.
"We are ready for technology transfers and regular sharing of best practices in supply chain, as we have world's largest supply chain network, and we are the best in refrigeration and cold chains", said Kuwaharada.