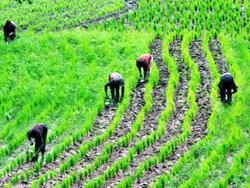 This Day | 25 November 2014
Nigeria: Osun partners Brazil, Paraguay, Argentina on agric
By Yinka Kolawole
Osogbo — As a result of the dwindling resources from the federation account to states, Osun State Government at the weekend signed partnership with investors from three countries aimed at boosting the state economy internally.
The delegation of businessmen/investors from Brazil, Paraguay and Argentina were led to the state by the Nigeria Ambassador to Brazil, Chief Chive Kaave.
The meeting was held at Ideal Nest Hotel in Osogbo, Osun State Capaital where the state delegation had discussion on some of agreement reached by the partners.
The areas of focus by the business delegation to the state include agricultural mechanisation, egg production, rice production, fish production, cassava processing, cooling storage and processing.
Speaking at the session, Director General, Office of Economic Development and Partnership, Dr. Charles Akinola took the stock of the economic plans of the state government under the leadership of Mr. Rauf Aregbesola and how the business investors from the three countries can key into the six point integral action plans of the government meant to banish hunger, poverty and engendered massive employment of the youths in the state.
Akinola informed the visiting team that Osun State has favorable climate, conducive for most agricultural products existing in the three countries, adding that most of the things grow in Brazil, Paraguay and Argentina also exist here.
While speaking on the importance of rail line to support industrialisation of the state, Akinola told the delegation that the state government was interested in establishing mid regional market at Dagbolu in order to industrialise the state through agriculture.
According to him, "we are interested in all season farming and we need to do so because the state government plans to supply at least 10 per cent of the food consumes in Lagos and we need to go into commercial agriculture to be able to achieve this.
"We want to promote Osun State through Small Scale Enterprises (SME) into industrial growing nation and for this singular reason we are developing all farm settlements. Over 190,000 acres of land had been prepared for the purpose of developing agriculture and encouraging banks to help bringing in partner of people who are interest in large scale agriculture through different partnership.
Speaking at the occasion, Nigeria Ambassador to Brazil, Kaave assured the visitors that the government would provide conducive atmosphere for the partnership to work adding that there is need for the country to diversify its economy to be able to rub shoulder with other nations.