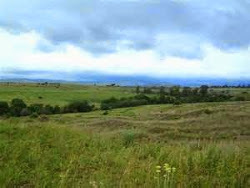 Farmlands in Mpongwe, Zambia.
Zambia Daily Mail | 24 November 2014
TALMED to invest $7m in Mpongwe farm
by TRYNESS MBALE, Lusaka
TALMED International Zambia Limited has set aside about US$7 million to establish a commercial farm which will be producing soya beans, maize and wheat in Mpongwe's Mukumpu area.
The project is expected to produce 45,000 metric tonnes of maize, 18,750 metric tonnes of wheat and 7,000 metric tonnes of soya beans every year.
The project will cover 5,272 hectares, where soya beans will be cultivated on 2,000 hectares, wheat on 2,500 hectares while maize will take 500 hectares.
According to an environmental impact assessment (EIA) report submitted to the Zambia Environmental Management Agency (ZEMA), Talmed International Zambia Limited will establish the commercial farm in Chief Ndubeni's chiefdom.
Talmed, which was incorporated in March 2014, will be trading as Kashiba Farm Limited.
"Talmed International Zambia Limited is proposing to establish a commercial farm in Mukumpu area in Chief Ndubeni's chiefdom. We propose to venture into crop production of soya beans, maize and wheat," the report reads.
The report says the implementation of the proposed agricultural project will result in an overall economic growth and development and, as a result, will contribute to the overall improvement of food security.
It says the planned project will involve infrastructure such as water distribution canals, water pumping stations, 33 centre pivot systems, agricultural fields, chemical storage facilities, plant equipment, store rooms and administrative office block.
Other buildings are residential areas, marketplace, social infrastructure, power substation and transmission lines, grain storage, silos, fuel storage tanks, road network and various auxiliary facilities such as staff housing units, offices and workshops.