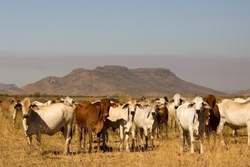 Financial Review | 21 november 2014
Terra Firma to sell Aus beef stake
by SARAH THOMPSON AND JAKE MITCHELL
LONDON-BASED private equity titan Terra Firma is mulling a partial sale of Australia's largest privately owned beef producer, Consolidated Pastoral Company (CPC), appointing investment bank Barclays Capital to field recent approaches.
The move to sell CPC, which was bought from the Packer family in 2009, comes as cattle exports are expected to boom following the free trade ­agreement (FTA) signed this week with China.
It's believed Terra Firma – founded by private equity doyen Guy Hands – and CPC have received several approaches from ­Chinese players. Sources said Mr Hands was considering a partial sale of as much as 40 per cent to fund growth.
Barclays, a longstanding adviser to Terra Firma, has been retained on the potential deal.
Exporters welcomed the announcement of the FTA with China this week, with red meat producers among the winners. They are expected to gain an $11 billion boost from the complete elimination of tariffs over nine years. The tariffs now stand at 12 to 25pc, but with their removal the value of beef production could increase $270 million annually by 2024.
Shares in listed cattle ­station owner Australian Agricultural Company (AACo) are trading at a premium to net tangible assets.
CPC, which has a book value of about $700 million, also holds a 50pc interest in a joint venture that owns and operates two cattle feedlots in ­Indonesia and a partnership in China.
$100m of cattle station buys in 18 months
The strategic interest in CPC marks a consolidation phase in Australia's ­cattle station market, with private ­investors such as Australia's richest person Gina Rinehart, through to ­overseas investors and ­institutional money stepping into the sector.
A number of prominent investors have already taken positions in AACo, however, it is the BRW Rich Listers – including mining billionaires Ms Rinehart and Andrew 'Twiggy' Forrest, pastoralists the MacLachlan family, and media buyer Harold Mitchell – who have turned people's attention to the sector. There have been more than $100 million worth of cattle station ­purchases over the past 18 months.
"Australia's north has vast potential as a food producer and we are well-placed to meet the growing needs of our Asian neighbours," Mrs Rinehart said in July after taking a 50pc stake in two large ­stations in the West Kimberley, ultimately owned by the Milne Agrigroup.
CPC was bought from James Packer in 2009 for about $450 million, and owns and operates 19 cattle stations.
It has more than 360,000 head of ­cattle across 5.6 million hectares of land in Australia.
Terra Firma installed the company's fifth chief executive in as many years in July, with former AACo chief operating officer Troy Setter picking up the reins.