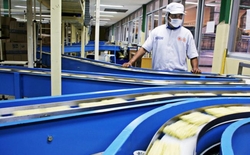 Manila Standard | 20 November 2014
Salim preempts San Miguel, ties up with Malaysia's Kuok
by Ray S. Eñano
San Miguel's dominance of the local food business is now facing a serious challenge from Anthoni Salim. The Indonesian tycoon, through Hong Kong-based conglomerate First Pacific Co. Ltd., is about to acquire Australia's food giant Goodman Fielder for $1.27 billion.
Goodman Fielder is into the manufacture of milk, bread, butter, flour, oils, mayonnaise, cake mixes and sauces—the same products that San Miguel makes in the Philippines. Salim is buying out Goodman Fielder by teaming with Wilmar International Ltd. of Malaysian tycoon Robert Kuok.
The partnership with Kuok may have virtually killed San Miguel's planned $1-billion joint agriculture project with the Malaysian tycoon. The Philippine government earlier recommended to San Miguel and then prospective partner Kuok Group of Malaysia 800,000 hectares of farmland in Luzon and Mindanao for the joint agriculture project. The farmlands are in Mountain Province, Zamboanga del Norte, Zamboanga Sibugay, Sarangani, Davao del Sur, Davao del Norte, South Cotabato, North Cotabato and Agusan del Norte.
San Miguel and Kuok's Wilmar, the world's largest listed palm oil trader, in 2008 signed an agreement to invest up to $1,000 a hectare to plant coconut, oil palm, rice, corn and sugar. That planned joint venture, stalled by government bureaucracy, may have been put on the back burner.
First Pacific, meanwhile, is wasting no time in contesting the stranglehold of San Miguel in the Philippine food business. A source said Salim and First Pacific chief executive and managing director Manuel V. Pangilinan, or MVP, are bent on wresting San Miguel's control in the Philippine food market. "The plan is to engage in all food businesses San Miguel is in. The stage is set for an all-out food market war between First Pacific and San Miguel in Philippine groceries and supermarkets," said the source.
Kuok's Wilmar group is one of the world's biggest producers of soybean oils, soybean meal, fertilizer and animal feeds, which are the businesses San Miguel has heavily invested in the Philippines. San Miguel's B-Meg animal feeds is the country's biggest brand and the largest importer of soybean meal and user of local corn for animal feeds. Wilmar is also into oil palm plantation and specialty fats, sugar milling and refining.
First salvo
Salim has fired the first salvo in the much-awaited Asean economic integration. His initial flour mill venture at the Subic Bay Freeport is the harbinger of more food-related businesses he will establish in the Philippines amid a free Asean market regime, where protective tariffs are to be dismantled starting in 2015.
Salim's flour business venture in the Philippines was a direct challenge to San Miguel. Salim owns Bogasari, Indonesia's biggest flour mill, and PT. Indofood CBP Sukses Makmur Tbk., the biggest producer of instant noodles in the world. He will likely expand into other food-related businesses, including packaged food products and even instant coffee products, whose market is dominated by San Miguel and Universal Robina Corp. of retail tycoon John Gokongwei.
Salim's flour venture, Mabuhay Interflour Inc., will serve as his beachhead in the Philippines. Subic Bay Metropolitan Authority recently signed a 50-year lease agreement with the Salim Group, paving the way for the construction of the $50-million, 500-metric-ton flour per day mill, using Turkish equipment.
Interflour, which operates a flour mill in Turkey, aside from those in Vietnam, Indonesia and Malaysia, has built a reputation for dominating the business in any location it operates.
San Miguel, through unit San Miguel Pure Foods Company Inc., is the largest food company in the Philippines, with over 3,000 employees. Its integrated operations include breeding, contract growing, processing and marketing of chicken, pork and beef and the production of refrigerated, canned and ready-to-cook meat products, as well as ice cream, butter, cheese, margarine, oils and fats, and animal and aquatic feeds.
San Miguel Pure Foods derives 60 percent of sales from poultry, feeds and meats, branded businesses, processed meats, coffee and dairy and flour.
The food interests of Salim's group, meanwhile, are not totally unrelated. Indofood is one of the leading packaged food producers in Indonesia, carrying strong brands, while Bogasari makes wheat flour and pasta.
"If you are in the flour business, it is easy to move to feeds and then to poultry and pork business. Salim's group can also produce instant coffeee products, as Indonesia is a coffee exporter," says the source.
E-mail:
[email protected]