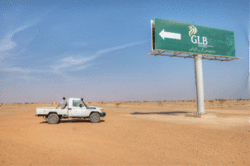 In 2011, GLB Invest (GLB), a Lebanese offshore company based in Sudan, acquired 87,200 hectares of land in Sudan under a 99-year renewable lease and secured the water rights for 900 million cubic meters per annum in deals signed with the Sudanese government. (Photo: Executive Magazine)
Executive Magazne | 22 October 2013 
Cultivating a fortune: Lebanese agricultural traders GLB move into alfalfa production in Sudan
by Nabila Rahhal
GLB Invest (GLB), a Lebanese offshore company based in Sudan, is developing an $800 million alfalfa production project in Sudan with plans to primarily export the crop to Saudi Arabia. $200 million has been invested by Firas Badra, president of FB Holding, which owns GLB.
This alfalfa plant is GLB's first venture into agricultural production. Their business so far has focused primarily on agricultural trading through Golden Grain, their grain trading company, and FB Negoce, which trades in sugar, rice and fast moving consumer goods in Lebanon and the wider Middle East region. Badra admits that he lacks experience in agricultural production but says he has hired experts from France and Spain to run the project's operations and ensure quality.
"The queen of forage"
Alfalfa is known as the "queen of forage" and is either dried as hay or mixed with other crops for feeding dairy cattle. Its main advantages include a high yield per hectare and a high nutritional value, which maximizes cattle's milk production. Financially, alfalfa is considered a cash crop since it can be harvested every 35 days. GLB's Sudan Project plans to start making profit within the second year of the project initiation. One drawback of alfalfa farming is the sheer volume of water required to cultivate the plant. Irrigated alfalfa is the single largest agricultural water user in California with as much as 40 inches of seasonal water neccesary to maintain healthy growth. Hence Saudi Arabia is encouraging its agricultural and dairy companies to import their forage needs.
While America currently dominates the market in alfalfa production, a 2012 report by the United States Department of Agriculture indicates that alfalfa production in the US, in terms of area and production, is the lowest it has been since 1957. Debates have ensued on whether to discontinue its production.
Dwindling American production has has created an opportunity for others to fill the supply void. Badra has an eye on the Saudi market but says GLB is open to exporting to China, Japan and the United Arab Emirates as well, all markets with a considerable dairy industry.
In 2011, GLB acquired 87,200 hectares of land in Sudan under a 99-year renewable lease and secured the water rights for 900 million cubic meters per annum in deals signed with the Sudanese government. Aside from its favorable climate and its proximity to the major areas of export, Badra says Sudan was chosen for the project because of a lack of local competition. To date multinationals have avoided operating in Sudan as it is classified a "high risk" country and subject to US sanctions. In spite of this Badra remains confident, "We know the market and how to deal with it; we know the people there and have good relations with the government so we have all the support we need from it."
Recouping the investment
GLB's Sudan Project is spread over five phases of land development, seeding and harvesting with the final goal of producing 750,000 tons of alfalfa annually by 2019. According to Badra work on the project is progressing as planned, with the first harvest scheduled for January 2014 currently on target.
Badra says that more than half the $800 million to be invested in the project will be generated from the project itself. Once the project completes its second phase, scheduled for October 2014, it will yield a minimum additional capacity of 210,000 tons of alfalfa per annum and will begin to finance itself with the majority of profits generated being reinvested in the project. FB Holding's $200 million share has already been invested in the first phase of the project. "Financing was a difficulty as European banks, US banks and some Arab banks don't finance in Sudan because of the sanctions so that's why the project started as 100 percent equity," says Badra.
The second phase requires an investment of $140 million and GLB is in the process of convincing banks and would-be investors to back the project. Badra says they already got approval from Islamic banks as well as development and African banks. As most of the profits will be reinvested in to the next phase of the project, Badra says investors can expect an initial return on investment between 40 to 45 percent within two years of their investment. Though the central bank places restrictions on repatriating dollars from Sudan, Badra says "we have our ways to manage that".
Alfalfa won't be the only crop planted by GLB in Sudan, as they also plan to plant sunflower seeds when it is time to rotate the crop in three years. The sunflower seeds will be used to make oil to be sold locally in Sudan and exported further afield.
Though Badra is aware of several new alfalfa production projects coming up in Sudan over the next few years, he says the demand generated by Saudi Arabia alone will create more than "enough room for everyone."